Strain Review: Buttafingazzz by Backpack Boyz
ButtaFingazzz strain by Backpackboys
Lineage/Genetics: Unknown
Original Breeder: Unknown
Grower: Backpack Boyz x 5 Points LA
ButtaFingazzz Strain Review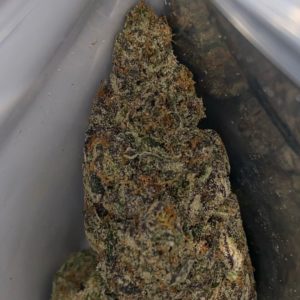 10/10
This one was a sleeper at first the smell was hard to find but was sweet with a lil Carmel hint but on the break down the sweetness showed way more. Nugs were a nice variety some were more purple then others and sum had a lil mix of in between. Structure was nice and kind of big that came to a top with the small ones being more of little triangles.
Texture was definitely more on the soft side with a easy breakdown. Smoke was definitely a winner was super strong and fast acting only took a few puffs from the wood to get me feeling it instantly in the lower back part of my head and then a few more to kind of tingle my 🦷.
Taste was a crazy mixture of peanut butter and chocolate notes accompanied by a sweet cream. Definitely a strong head high for me not so much body was very calming and relaxing not so much joyful or euphoric.
#backpackboyz #420 #710 #cookiesorbetter #420community #exoticcannabis
Advertisements