Strain Review: White Zerbert by Backpack Boyz
White Zerbert
Lineage/Genetics: Unknown
Original Breeder: Unknown
Grower: Backpack Boyz x 5 Points LA
White Zerbert Strain Review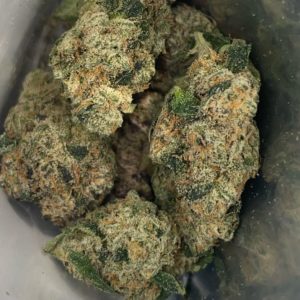 9/10 by 🎒Boyz.
This right here is for sure some flavor pack just from the name and cross you should know what to expect. Once I opened the bag it hits you with a sweet berry🍇 candy🍬 that fills the room on the break down it just intensified it.
Nugs weren't huge or super dense more on the smaller side very green frosty with a few orange hairs and very easy to break down. There were a few water leaves but that's just from the trimmer. Smoke had the same flavor as the smell very sweet candy taste with berries but on the smoke you could get a lil sourness from the sherb.
The high for me was very relaxing physically it was more of a body starting in my legs and slowly moving up but halfway through the blunt I did get a lil more of a head high that mellowed out eventually. I would recommend this after any physical activity.
#backpackboyz #zerbet #cookiesorbetter #420 #710
Advertisements