Strain Review: White Zerbert by Backpack Boyz
White Zerbert
Lineage/Genetics: Blue Sherbert x Zkittlez
Original Breeder: Unknown
Grower/Brand: Backpack Boyz x 5 Points LA
Terpene Profile: Unknown
White Zerbert Strain Review by Qsexoticreviews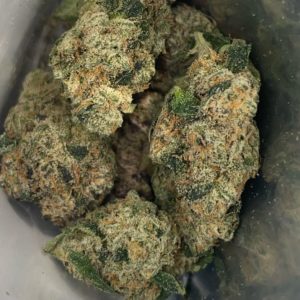 9/10 by 🎒Boyz.
This right here is for sure some flavor pack just from the name and cross you should know what to expect. Once I opened the bag it hits you with a sweet berry🍇 candy🍬 that fills the room on the break down it just intensified it.
Nugs weren't huge or super dense more on the smaller side very green frosty with a few orange hairs and very easy to break down. There were a few water leaves but that's just from the trimmer. Smoke had the same flavor as the smell very sweet candy taste with berries but on the smoke you could get a lil sourness from the sherb.
The high for me was very relaxing physically it was more of a body starting in my legs and slowly moving up but halfway through the blunt I did get a lil more of a head high that mellowed out eventually. I would recommend this after any physical activity.
#backpackboyz #zerbet #cookiesorbetter #420 #710
White Zerbert Cannabis Cultivar (Strain) Review by phenomenalreviews420
#whitezerbert🔥 @backpackboyz.losangeles @5pointsla @5points.ca_ @quesada925 @antimidsclub.official @anti_mids_club @amc.reviews @thethcspot @thefirescale @zerofuxthecannabisconnoisseur
Genetics🧬: Blue Sherbert x Zkittlez
Pckg: 11/23/22
THC: 36.828% CBD: 0.072%
Hadn't had this strain in awhile so when there was a fresh batch of it I had to try it out and give it a go.
The taste on inhale was a very clean candied ⛽️ with slight sweet undertones and pockets of subtle creamy dessert terps, like a lemony pound cake mixed with that fuely gassy goodness known from these guys. Good pressure😤😤, good clean and smooth smoke 💨. The exhale was more of a slight citrusy fuely kick to start becoming a subtle spicy/sweet ending.
The head high was immediate with onset head change, heaviness in eyes and some buzzing in Templar lobes. Moderate euphoria with slight Stoney vibes, some focus with slight haze and no couch lock 🔒. Anti depressant, happy/joyous and anti stress properties present. The body high was low to moderate but very complimentary to the cerebral high and effects; some calming/tranquil vibes, anti fatigue and slight relaxation properties.
Taste: 9.25+ High: 9.25+
Overall: A1 🔥🔥💨💨
This was actually a pleasant surprise as I wasn't having such high expectations, no pun intended, with this strain. Was a very pleasing and enjoyable daytime strain, checked all the boxes but could've been dialed in a bit better, definite room for some improvement.
#whitezerbert🔥 #backpackboyz #5points #5pointsla #5pointsca #antimidsclub #amcorgohome #wedontsmokethesame #smokebetter #smokesmarter #qualityoverquantity #thefloracle #pickiestofthestickiest #fresherpressure #treatyourselfdontcheatyourself
Advertisements