Strain Review: Cherry Runtz by Willow Creekside Farms
Strain: Cherry Runtz
Lineage: Runtz X Cherry Pie
Genetic Type: Hybrid
Cannabinoids: Total: 41.17% THC: 36.23% CBD: 0.0%
Package Date: 5/5/22
Original Breeder: Elev8 Seeds
Cultivator: Willow Creekside Farms @willowcreeksidefarms
Terpene Profile: Unknown
Distributor: UpNorth @upnorth_humboldt_ca
Brand: @willowcreeksidefarms
Dispensary: Eureka Sky @eurekaskysf
Cherry Runtz Cannabis Cultivar (Strain) Review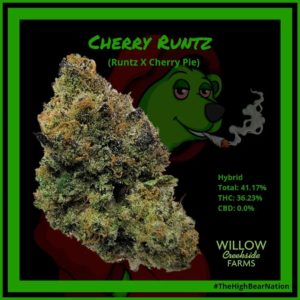 Look: 2 large nugs, 2 medium nugs and 4 smalls filled this jar to 3.51 Gs. A beautiful combination of deep rich lavender and mid greens. Absolutely covered in thick chunky blonde trichomes that make the nugs look like they were dropped in sand with rust orange pistils shooting wildly throughout the buds.
Scent: This batch was super pungent when opening the jar, literally my whole room filled with a sweet tart cherry, sour berries and earthy diesel aroma. Has a backend of a sort of funky creamy note but tart cherry candy is for sure the dominant profile. When broken up it releases a strong lemony citrus scent with more of that sweet candy and gas.
Flavor: The earthy diesel hits the taste buds first and immediately followed by the tart cherry candy/sour berries. Get a very slight funky skunk and hints of lemon on the exhale.
Effects: Immediately feel happy and giggly, very uplifted. Seriously, first hit and my whole vibe was improved. Eyes feel a little heavy in a stoney sense, not sleepy. Vision is in and out of focus at first but then everything settles. Feel the pressure in the lungs on the inhale but not cough inducing. Body feels pretty good, mild pain relief and muscle relaxation. Mostly just feeling super happy and ready to have a good time. This is a perfect "Daytime Toke" or even a "Wake N Bake" to get/keep you in a happy stoney mood and knock out a project or some chores.
𝔸𝕝𝕝 𝕡𝕣𝕠𝕕𝕦𝕔𝕥𝕤 𝕡𝕠𝕤𝕥𝕖𝕕 𝕨𝕖𝕣𝕖 𝕠𝕓𝕥𝕒𝕚𝕟𝕖𝕕 𝕗𝕣𝕠𝕞 𝕒 𝕃𝔼𝔾𝔸𝕃/𝕃𝕀ℂ𝔼ℕ𝕊𝔼𝔻 ℂ𝔸𝕃𝕀𝔽𝕆ℝℕ𝕀𝔸 𝔻𝕀𝕊𝕋ℝ𝕀𝔹𝕌𝕋𝕆ℝ 𝕒𝕟𝕕 𝕒𝕣𝕖 𝕤𝕙𝕒𝕣𝕖𝕕 𝕗𝕠𝕣 𝔼𝔻𝕌ℂ𝔸𝕋𝕀𝕆ℕ𝔸𝕃 𝕒𝕟𝕕 𝔻𝕆ℂ𝕌𝕄𝔼ℕ𝕋𝔸𝕋𝕀𝕆ℕ 𝕡𝕦𝕣𝕡𝕠𝕤𝕖𝕤 𝕠𝕟𝕝𝕪. 𝔹𝕖 𝕤𝕦𝕣𝕖 𝕥𝕠 𝕗𝕠𝕝𝕝𝕠𝕨 @NorCalCannaBear 𝕗𝕠𝕣 𝕞𝕠𝕣𝕖!
.
.
.
.
.
#NorCal #CannaBear #TheHighBearNation #CannabisCommunity #CannabisCulture #CannabisReview #WeedReview #TheSmokersClub #420 #420Daily #420Community #PremiumCannabis #LuxuryCannabis #CannabisIndustry #CannabisPics #WeedPics #PotPics #PuffPuffPass #California #CaliforniaDispensary #BayArea #BayAreaCannabis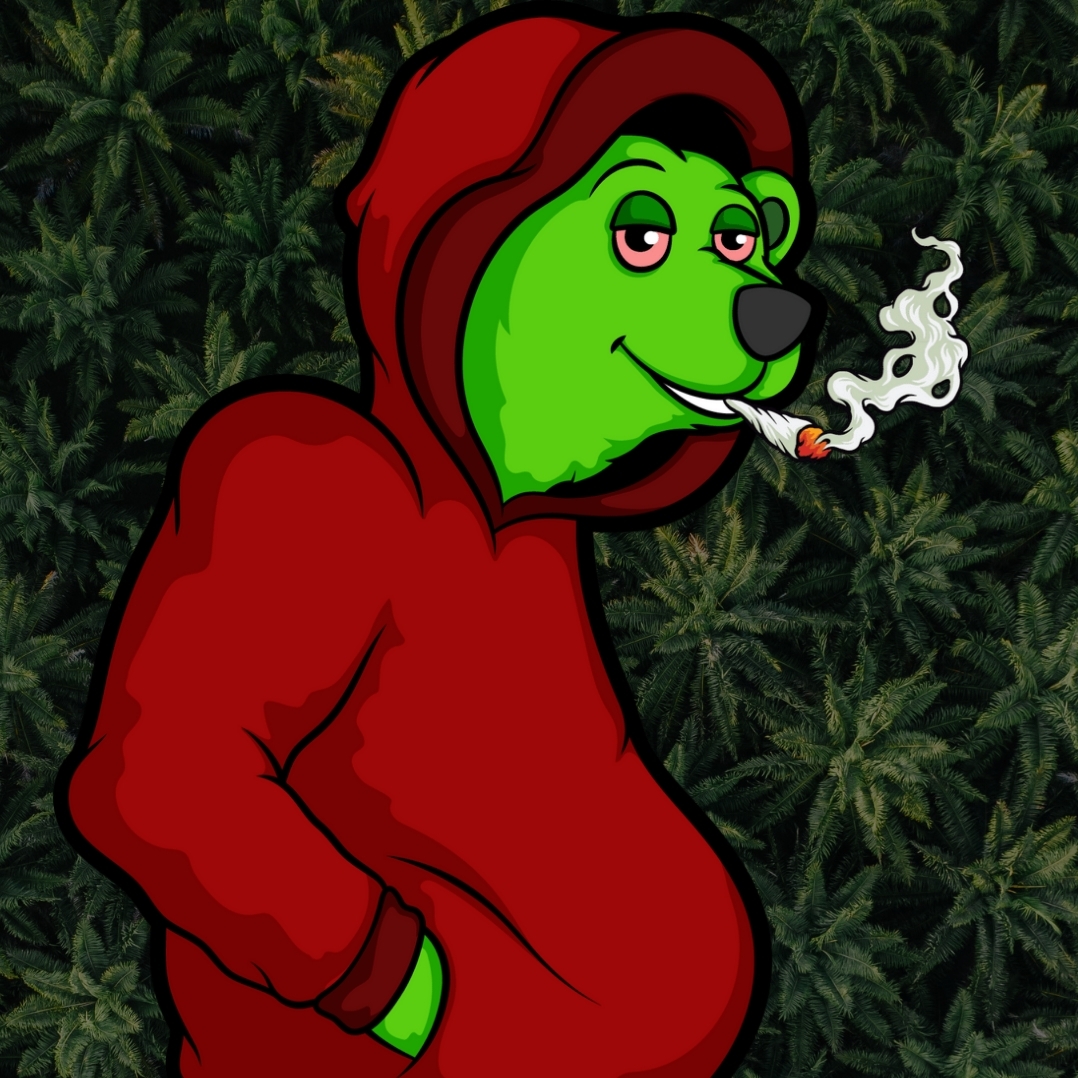 14+ year long Med/Rec Cannabis user from the Bay Area, California. Providing my honest opinion of cannabis products ranging from economical to top shelf. Follow me on Instagram @norcalcannabear