Strain Review: Chocolate Berry Queen from Releaf Health
So, I'm hearing that people want an end to the fires, maybe some real solutions to systemic racism and police misconduct. Unfortunately, the best I can do is mediocre pictures and a brief review of the Chocolate Berry Queen that the lovely folks at @releafhealthcannabis were carrying recently. Not a perfect substitution, but we all gotta find our niche these days.
Lineage/Genetics: Chocolate Thai x Blackberry Kush x Chocolate Kush
Original Breeder: Unknown
Grower: Releaf Health
Dispensary: Releaf Health
Chocolate Berry Queen Strain Review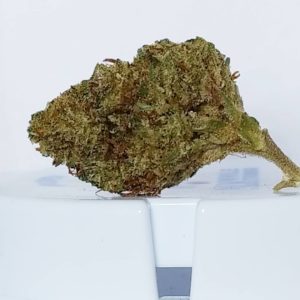 This was a budget offering. $20 for the 4g eighth on Wednesdays. When it comes to Portland's extremely hit-and-miss budget cannabis scene, this stuff is hard to beat.
The thing I look for in budget weed isn't so much overwhelming positives, as much as a lack of glaring negatives. If the smell is at least acceptable, the flavor isn't shitty, and the high is enjoyable, you've found good budget weed. This CBQ isn't gonna win any awards for its appearance, but it's a super enjoyable smoke for the price
It had some sort of chocolatey, hashy notes, but nothing that came through super hard. In most cases like this, it's a bit dry and crispy, but this stuff remained at a healthy RH the whole time I had it. Good consistency for blunts, plus some notable trichome coverage when you get in close.
I've been privately recommending this to people since I got it, but it sounds like the shop is sold out of it now. This review is meant more to serve as an indication of the quality you get at Releaf's budget price tiers. I don't know much about the producers they work with, so I just ask for recommendations from their budtenders, and I wind up with some seriously nice offerings. If you're on a budget, or wanting to support the limited diversity in our market, or you just want some fire weed that other people aren't carrying, stop in and give these guys a shot.
#thehighestcritic #strainreview #strainreviews #weedreviews #420review #portlandcannabis #OMMP #portlandweedreviews #MMJ #oregoncannabiscommunity #portlandcannabiscommunity #oregonweedreviews #Medicate #oregoncannabis #PNWStoners #PDXcannabiscommunity #pdxcannabis #pdxstoners #cannabiscommunity #cannabisreviews
Check out more reviews by @pdxstoneman on Instagram! (www.instagram.com/pdxstoneman)