Strain Review: Sunny D by Meraki Gardens
When I was a kid, I used to spend a lot of time with my grandparents while my parents were at work. My grandma would have friends over for tea and insist that I sat with them. She used a lot of words and phrases that many find offensive, but I guess children coming to tea was the important form of manners to her, I dunno. Conservative Southern Baptists have weird priorities.
Anyway, I was a picky kid. There wasn't a tea that I liked, until she found this orange shit. It had this musty, spicy orange flavor that I really liked, so tea stopped being such a big deal. That's the flavor I got on the exhale from this Sunny D.
Lineage/Genetics: Orange Juice x GSC
Original Breeder: Meraki Gardens
Grower: Meraki Gardens
Dispensary: Tetra Cannabis
Sunny D Strain Review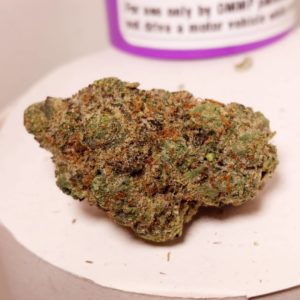 @merakigardens recommended this Orange Juice and GSC cross to me, and it didn't disappoint in terms of effect, scent, or flavor.
I'd mainly describe the effects as "cloudy". I think the Tangie dominance of a lot of orangey genetics conditioned me to expect some energy and function, but this stuff felt like I filled my head with cotton. It was still very enjoyable, but it's not the strain that's gonna replace your morning coffee.
Basically every strain I've had from these guys has been dense like a dying sun, and had a noteworthy cough/choke factor on the exhale. That doesn't really put me off from buying it at all, but it's worth mentioning.
I like to review these guys quite a bit. My Horchata strain review netted me a box of swag and a sweet handwritten note in my mailbox. You can't beat that kind of positive feedback. I get their stuff at @tetra.pdx now that Pure Green is closed, but they're also my go-to when I go to a new shop and don't necessarily trust my budtender to know the products as well as I do.
Overall, this stuff has been a pleasant surprise, and it's one I'd buy again. Give it a try yourself.
#thehighestcritic #strainreview #strainreviews #weedreviews #420review #portlandcannabis #OMMP #portlandweedreviews #MMJ #oregoncannabiscommunity #portlandcannabiscommunity #oregonweedreviews #Medicate #oregoncannabis #PNWStoners #PDXcannabiscommunity #pdxcannabis #pdxstoners #cannabiscommunity #cannabisreviews