Strain Review: Ice Cream Sundae by Northern Emeralds
Strain: Ice Cream Sundae
Who: @northern_emeralds
Lineage: Ice Cream Kush x Sundae Driver
Original Breeder: Northern Emeralds
Grower: Northern Emeralds
Dispensary: The Artist Tree
Ice Cream Sundae Strain Review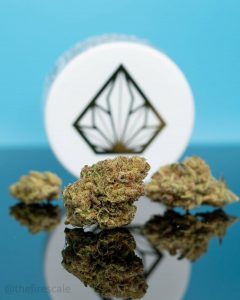 Aroma: IKEA Furniture, Rainbow-Striped Gum, Five-Spiced Powder.
Structure: Compact medium-sized buds that break off into crumbling chunks, fine trim, dry cure.
Palate: Floral Lifesaver, Play-doh, Sunflower Seed, Dry Finish.
Effect: Average Strength – Hazy head high w/ some body buzz.
Overall: The last effort with @northernemeralds didn't fare too well, but based upon their stellar reputation I decided to give this one another ago.
Twist, Crackle, and Pop the jar to find a smell that I can best describes as particle board. Woof.
Internally, I monologue (or soliloquy for you fancy English nerds) obscenities as I grasp a light green nug. Leaf tips like Arabian daggers do not harm these fingers as I crack open a bud near my nose. And that's all it took to release all the limonene terps that were hiding. There's bright citrus and grape candy with a humulene yeast and pepper scent that finishes it off.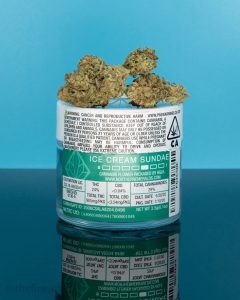 Interior is more brilliant than the outside, as it's like it's been powdered with glitter as I look inside. It crumbles a bit as I pack a bowl, not my favorite.
I end up having to burn through my entire portion with 3 different sized pieces to accurately decipher the flavor as I feel like it is so strangely muted. There's raw pretzel dough, a floral herb note akin to rosemary, and a skin of a peanut, dry finish.
I'm bummed this is another miss for me. This can be good, it's somewhere in the smell. But like always, for better or worse, I gotta keep it honest to myself. For this batch:
The Fire Scale: 5/10 flamey-wabba-doos
🔥🔥🔥🔥🔥🔥🔥
I'm willing to give em one more shot if I can get a fresh batch of Titan OG (which I've heard is their best) What should I do?
I know you all will let me know in the comments, and I appreciate the feedback and conversation 🔥 I do these notes for myself, but all of you make me want to always step it up every time. Thank you, I accept, and appreciate the challenge.
Advertisements