Strain Review: Chocolate Thai x Chocolope by Old World Organics
Do you remember the 70's? Me either, but this Chocolate Thai X Chocolope from @old_world_organics_llc is definitely a throwback!
Lineage/Genetics: Chocolate Thai x (Chocolate Thai x Cannalope Haze)
Original Breeder: Old World Organics
Grower: Old World Organics
Chocolate Thai x Chocolope Strain Review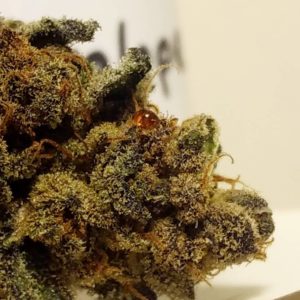 This is a great classic sativa that even the snobbiest of old school stoners would have to admit was as good as the opium laced dope they smoked from a shotgun in 'nam.
As you can see, it literally oozes resin. This has some serious hash plant genetics and you can tell.
The smell harkens back to the lovely Thai sativa strains with big hits of hash, earth, and gas.
I find Chocolope to be quite a relaxing sativa hybrid, which really offsets the uplifting stimulation from the Chocolate Thai that could almost overwhelm some less experienced smokers on its own. It's a great way to start your day and really enjoy breakfast. It's the most important meal of the day, treat yourself.
It turns out that I've been tagging entirely the wrong account for the first two reviews. I'm…not good at Instagram. If you're like me and want more of the strains that built this industry in the market, have you favourite dispensary manager hit up @old_world_organics_llc.
I can also put you in contact with someone if you want to DM me about it for some reason. Your boy is mad connected (not really).
.
.
.
#thehighestcritic #oldworldorganics #chocolatethai #chocolope #strainreview #strainreviews #weedreviews #420review #portlandcannabis #OMMP #portlandweedreviews #mmj #oregoncannabiscommunity #portlandcannabiscommunity #Medicate #medicalmarijuana #oregoncannabis #oregonweedreviews #weshouldsmoke #wedontsmokethesame #justblazeig #weedstagram420 #420lifestyle #cannabiscommunity
Advertisements