Strain Review: Clout Drank by Clout King
#CloutDrank 🍇🔥🌲🥃🌬
#CloutFuel x #WeddingCake .
Lineage/Genetics: Tropicana Cookies x Dosido
Original Breeder: Clout King
Dispensary: DELI By Caliva
Clout Drank Strain Review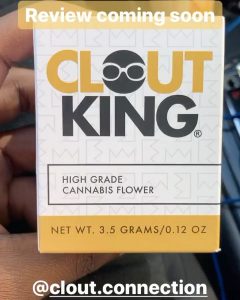 22.80 % #thc
0.04 % #cbd
.
@cloutking.grown @cloutking2.0
@clout.connection @delibycaliva @gocaliva .
.
💨Smells like a Strong Tangie and Pungent Purple Punch Aromatic mix with a hint of wedding cake #terpsfordays .
.
🌲Citrus and Fruit Punch flavors with Pine and Vanilla tones
.
🍇Colorful Purple and Green nugs with vibrant orange hairs dusted in shiny #trichomes .
.
🔥Big, Sticky and Dense, breaks down great with leaves still intact (no dust/sand).
.
🚨🚨"UPDATE" lol i forgot to post the experience , that should show you how great this flower is.
.
.💯🔥💚 This strain is a heavy hitter in all senses. Definitely indica dominant as it quickly relaxes your body and brings on big appetite.
Half way through the first blunt of this had me on cloud 9 .The high definitely matches the impression you get from the product. the high is pretty long lasting surprisingly and the come down isn't bad .. instead of a crash I actually had a creative surge and posted the review 💯💯..
Overall 10/10 and great for treating yourself in these qurantined times .
.
.
.
#sjweedreview #sjweedreviews #smokeweedeveryday #cloutking #friendsdontletfriendssmokemidd #408 #medicalmarijuana #sssj #essj #wssj #nssj #cannabiscommunity #bayareacannabiscommunity #ganjagirls #smokekings #stayhomeandsmoke #quarantined
Advertisements