Strain Review: Cuvalín by Small Batch 831
Cuvalín – @smallbatch831
Nose: Earthy, piney, mint, cakey
Inhale: Sweet, gassy, cakey, doughy, fruity, musty
Exhale: Musty, piney, fruity, diesel, woody, sweet
Lineage/Genetics 🧬: Cookie Cuvée x Gushers
Bred by: Smallbatch831
Grown by: Smallbatch831
Terpene Profile: Unknown
Cuvalín Cannabis Cultivar (Strain) Review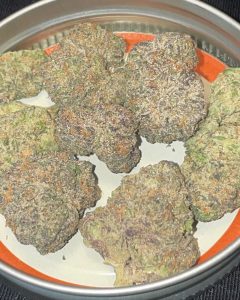 Hey what's up everyone? The weekend is drawing near an end but, before it does, I have one last review to send it off right. I have a special, small batch debut for a team hailing out of central California. Today, I am going to dive into the Cuvalín by Small Batch 831. I was stoked to get my hands on this because, prior to stumbling across their page on IG, I honestly didn't know virtually anything about neither Small Batch 831 nor Cuvalín. I have always had the theory that the best weed typically comes from those you know nothing about. Not to discredit larger name brands who have put the work in to get their name on a bigger platform but I have always found particular interest in these types of "brands" (if that's what you call it) across any industry, quite frankly. After getting the chance to talk to Small Batch 831, I was intrigued by the fact that they have been at it since 1997 when they first plant a cut of DJ Shorts Blueberry. Fast forward to 2022, the experience has built up and they are known for a couple of their own cultivars including: Cuvalín (Cookie Cuvée x Gushers) and Cuvlato (Cuvalín x Gelato 41). The Gushers, they stated to me in the DMs was a select cut from @norcalcon . I mentioned earlier I will be going over the Cuvalín so let's waste no more time and get into the facts!
The Cuvalín was received in a standard, rectangular mylar foil bag that had a slight bit more of length compared to the traditional mylars you typically find. I personally thought the bag art was somewhat a play on the Lucky Charms logo. It's like they turned the leprechaun into a stoner skateboarder who is smoking a blunt with a giant nug of Cuvalín in one hand and a cookie packaging in the other. Not the most flamboyant or flashy packaging but I believe it has its own creative spin on it. The image on front was overcast by multiple shades of pink, orange and yellow that made up the colorway on the package.
When I first opened up the packaging on the Cuvalín, I was met with a rather dull nose which consisted of a deep earthy overtone matched with subtle hints of cake and pine. I was initially surprised how earthy the nose was but I was hopeful the smoke would hold more flavor. Pulling out the nugs, I was met with medium-size ones that varied in color. Some appeared to be lighter green while other darker purple. Each had a fair amount of density to them but, at the same time, a bit airy and fluffy in some cases. There was an slightly underwhelming triche coverage on the structure that came out more clear under the microscope. Not to ignore the fact their were a considerable amount of pistils scattered throughout the overall structure as well as tucked in. Although this cultivar didn't have the most imposing appearance I've ever come across the nugs still looked healthy and were in good shape for the most part. The once dull nose on the Cuvalín became a bit gassier as I held it closely to my nose. Even when breaking it down I started to hone in on hints of thin mint cookie topped over that cakey layer found on the initial nose. Breaking down (preferably by hand on this one) the buds resulted in a fairly good yield. They contained a stickier texture within the inside when broken open which ultimately filled the joint out with bigger chunks. The dry pull on the joint consisted of a thin mint cookie dough taste with an undertone of woody-citrus terps.
When I sparked the Cuvalín in an Organic RAW, the initial inhales were comprised of a sweet, gassy coating thrown over a cakey and doughy blend. On the way out, I received a musty, piney finish that retained the mildly fruity experienced on the inhale. The gassiness of this cultivar snuck up as each pull had an enhanced cookie taste on the inhale. A little ways into the sesh, I felt the Gusher parent kicking into action as I gained a fruity diesel taste on the follow through. This cultivar provided a strange but complex terp profile that hit the mark concerning its lineage. The pulls, for the most part, contained a sharp gassiness to it that became more and more pressuring as the sesh progressed. This cultivar created a moderately slow burn resulting in a thick lighter gray to white ash along with an ok terp ring. Each pull remained gassy down to the finish exhibiting an even amount of sweetness between the inhale and exhale. I personally felt as this cultivar had an all around rich flavor, smoking well throughout the sesh taking me a little bit by surprise given the nose and aesthetics.
The medicinal effects had a bit of lag time before settling in. I started to experience a slight head buzz accompanied by a slow burst of raciness in my heart. It only took about 10 minutes until I began to feel as if my mind was racing as well. My thoughts were a bit cloudy and, settling in, I felt my back/shoulders sinking back as I developed a steady europhia taking over the body. I didn't think the overall medicinal effects this cultivar def off were overwhelming but I definitely felt relieved of any problems I was having at the time. About an hour in, the medicinal effects had me fully sedated between my mind and body leaving me in an extremely comfortable state. My perception was restored later on as I came back to clarity. The effects lasted around two hours packing an enjoyable experience throughout. As I mentioned the high was absurd but carried its own as the effects created left me bent for a good while.
After having a chance to try the Cuvalín I didn't think that it took me completely by storm but it was indeed unique. As I highlighted it really smoked like a cookie cultivar with a gassier finish to it similar to Gushers. I definitely would recommend this to any one who perfers a gassier smoke over more a terpier one. That's not to discourage the flavor neither. However, the medicinal effects I think are more doable for those who have more experienced lungs. For those that don't this may pack more of a punch than normal and may want to be reserved for nighttime use. I also think this would be a great pair for those who deal with certain mood-related illness as this cultivar made me extremely upbeat and happy. My all around experience after trying the Cuvalín was positive and I definitely would be interested in seeing where the Cuvlato stand in comparison.