Strain Review: Exotic Gas by The Loud Plug
⛽ The Loud Plug – Exotic Gas
Lineage/Genetics: Unknown
Original Breeder: Unknown
Grower: The Loud Plug
Terpene Profile: Caryophyllene, Limonene
Dispensary: Ontario Cannabis Store
Exotic Gas Strain Review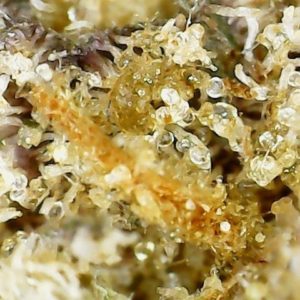 This one's been a long time coming. Since its first drop both the internet and fellow budtenders have been raving about it, and we've applied over and over but each time the OCS killed our dreams 🤬. But now, on The Loud Plug's last harvest coming to Ontario for the year, we got it. And it's everything I was promised and more 🥳
Opening the pack, the namesake smell fills the room (… a bit problematic for subway rolling 🤫). The top is very caryophyllene driven with diesel punctuated by a peppery nose tingle. Underneath is a subtle yet bright sweetness, like good green tea.
The bag consisted of about half popcorn, half average sized nugs. But as with most dense bud it didn't matter as can be seen in the micro pics, which uses a smaller piece 🍿. It was trimmed perfectly showing off the beautiful golden trichomes covering everything.
On the inhale the aroma's undernotes really shine 🍵. The diesel is still at the fore but minus any bite. There is just enough citrus and sweetness to brighten it up but keep it gassy. It was also exceptionally smooth, leaning into it's clean smoking vibe.
The high here is immediate and intense. Every bit of the THC hits from the get go with an intensity characteristic of Ghost Train 👻. There is a heavy pressure behind the eyes but with the buzzing happening throughout your brain it's not sleepy, just a lot. Simply put it punches 🥊. It then gradually crashes as the pressure takes over. But more hits easily refresh the high until you're ready for bed. Super easy to get very high as everything about this bud lends itself to smoking more and more 🌬️
The clouds opened up and fortune shined down on us 🥰. Dang am I pumped I got a chance to try this deservedly hyped strain before it leaves the province for a while. It's a hard hitter upholding high standards, in both it's grow and production, at a very competitive price. Now we gotta get The Loud Plug's Benny Bluntos, here's hoping our OCS luck continues. 🤞🏽🔥⛽🔥🥊
#ocs #ontariocannabisstore #ontariocannabisstorereviews #legalweed #legalcannabis #cannabisreview #weedreview #cannabiscommunity #cannabisculture #stoner #weed #cannabis #thc #budtender #budtenderreviews #420 #terpenes #420community #420daily #craftcannabiscanada #canadiancraftcannabis #canadianweed #canadiangrown #nugshot #budporn #weedporn #dank #theloudplug #exoticgas
Hey my name is Sean out of Body and Spirit Cannabis, a fully independent licensed bud store at Yonge and Dundas in Toronto. Super sensitive to strain differences, I like to keep a bunch on hand for exactly what I want or need to feel. The alternative is my day is ruined or I don't get to smoke! Be sure to check me out @sean.bodyandspirit for a full list of reviews and stop by the store to say hi and check out the new drops we're smoking!
Advertisements