Strain Review: Florida Sundae #35 by Jungle Boys
FLORIDA SUNDAE 35 🍊🍨
Lineage/Genetics: Sundae Driver 19 ❎ TK Bx1
Breeder/Grower: Jungle Boys
Dispensary: Toluca Lake Collective
Florida Sundae #35 Strain Review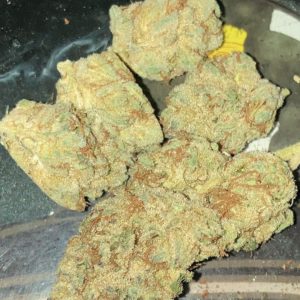 .
26.27% THC
0.04% CBD
35.1% Total Cannabinoids
.
@jungleboys
@tolucalakecollectiveinc
.
🍊The name Florida Sundae is of course derived from its genetics. Triangle kush is Floridas version of OG Kush ( the triangle is a tribute to Miami, Jacksonville and Tampa , Florida's 3 Cannabis capitals) Sundae of course comes from Sundae Driver 19 genetics. This was my first time trying Jungle Boys and they did not disappoint.
.
🍨There is a balanced and pungent aroma of chocolate, earth and fruit like a nice flavorful dessert. Chocolate notes mix with the some earthy and Woodsy notes to create a nice base of flavor that blend perfectly with some fruity berry lemony and grapey notes with a hint of fuel/spice mixed in the earthy tones.
🔥Light and olive green big kushy nugs. They're soft but degree and sticky the leaves are nicely compacted, each nug has a nice weight and breaks down into alotta flower material keeping a nice structure , great for rolling up. Some leaves develop a vibrsant golf course green at the tips while getting lighter and deviling a more yellow tone as you get closer to the stem. The pistils are long af and a nice reddish chocolate with a slight redder tinge in the right light. The Trichomes are super shiny and crystallized like sugar.
🍊Sweet creamy chocolatey flavor with sweet fruity hints then as you exhale the fruity flavors get a little stronger with a earthy woodsy heavyness. The smoke is thick and very smooth.
🍨Strong and potent high with a delicious flavor. The first few puffs hit heavy but smooth, I felt a nice and warm euphoric wave start to wash over my body and mind putting me in a joyous but increasingly stoney place. I felt like I was in the passenger seat of boat, laying back floating and letting the sun warm you up. Defintely a strain to kick back and relax to, let all your meta troubles melt away for a break in real world after smoking this. Potent af, great flavors, great for dealing with stress, managing an appetite and for just relaxing and enjoying life or being creative.