Strain Review: Gelato 33 x Zkittlez Cake by Teamchemdank
Gelato 33 x Zkittlez Cake /🍨🌈🍰
Lineage/Genetics: Gelato 33 x Zkittlez Cake
Original Breeder: Jungle Boys
Grower: Teamchemdank
Terpene Profile: Unknown
Gelato 33 x Zkittlez Cake Cannabis Cultivar (Strain) Review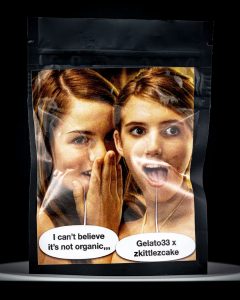 Good afternoon to all you cannabis freaks and geeks out there! I hope you all enjoyed the weekend and that your week is off to a good start. Today we have another bit of delicious premium UK bud from the talented folks at @teamchemdank – 'Gelato 33 x Zkittlez Cake' 👏🏻 I copped a batch of this stuff alongside that great Cherry Sherbet I posted not long ago.
Originally bred by @jungleboys this Indica-dominant hybrid, as it clearly states by its no-nonsense name, is a cross of two very tasty strains which both have an excellent lineage of their own – 'Gelato 33' and 'Zkittlez Cake'. Combining these two beauties unsurprisingly created an intensely delicious, moreish aroma and flavour profile 🤤
Speaking of which, when I first opened the bag I found my nose getting overwhelmed by a thick, sweet stream of candy notes and an underlying touch of gas. This was all wrapped up in a good layer of that undeniable creamy Gelato goodness. This wonderful blend of flavours making up the aroma translated over to the palate very nicely leaving me wanting more after every toke!
The flavour I got from this flower was as well rounded as the aroma was, providing me with everything I want from a strain that has parents like this one does. A burst of that same, sweet Gelato creaminess came through immediately, accompanied by a deep gassy undertone. After a few tokes I started to taste a sweeter, fruity edge to it all, followed by a warm note of cake and baked goods 🍰
The effects were very well balanced and came on pretty quickly as I got about half way through the joint. I initially felt a slight bit of pressure behind my eyes as a wave of relaxation trickled down from my head to my toes, leaving me feeling very calm and comfortable sitting back listening to some tunes. I wasn't in a state of super couch-lock, but I certainly came close, so this one's definitely to be enjoyed in the evening!
Once again, I'm very impressed with the hard work from @teamchemdank as it certainly shows with the immense quality of this strain. These guys are setting serious standards for the UK scene and I'm sure they've got some very exciting things to come!
#gelato33xzkittlezcake #strain #bud #cannabis #weed #thc #cannabiscommunity #trichomes #cannabisculture #420 #weedstagram420 #cannabisphotography #420daily #weedpics #weedporn #uktopshelf #premiumflower #instaweed #cannagram #macroweed #thebudstudio #hightimes #nugmag #cannabisnow #whiteashgang #weedworldmagazine #hightimesmagazine #skunkmagizine #leafly
#macrocannabisphotography