Strain Review: Green Crack by TruFlower
Green Crack – Sativa
Happy 4/20! Spread love&good vibes
Lineage/Genetics: 1989 SSSC Skunk #1 x Afghani
Original Breeder: Cecil C.
Grower: TruFlower
Dispensary: Trulieve
TruFlower Green Crack Strain Review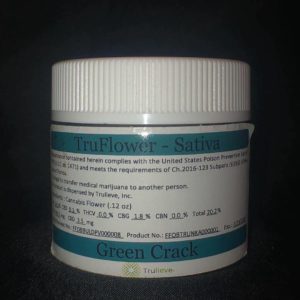 THC/CBD: 18.3% , CBD: 0.1%, CBG: 1.8%
Recommended time of use: day use recommended as well as late afternoon if you don't want to be couch locked and lose the whole day of being productive instead it gives you the energy you need to do multiple things throughout the day.
Head: fast onset on head, uplifting spacey type of high, yet allows you to focus and finish tasks without any major distractions. This is a day strain because it will not leave you feeling slow, you will be medicated, but you will still be yourself.
Body: not a complete body relaxer yet there is some body relief, just not that much to be consider a full body tranquilizer or numb. It is not a strain that is heavy in the eye lids, nor a strain which dries out your eyes, both with contacts and with regular glasses.
Creativity/talkative: half half talkativity level, definately an uplifted high. Positive thoughts and lots of joking around with company. I do feel myself getting lost in my high thoughts for couple seconds so I'd would say it's a very spacey high per say.
Hunger: my hunger came on fast eventhough I had eaten a couple hours ago. I see this strain benefiting a person who lacks appetite throughout the day due to any underlying medical condition. Or if you just want to eat more to gain weight. This this strain will not let you down. .
.
.
.
.
Hashtags 👎 ignore them
.
.
.
.
.
#restlesslegsyndrome #trulieve #truliever #truflower #sunshine #cannabis #sunshinecannabis #sunshinestate #medicalmarijuana #marijuana #mmj #florida #miami #miamibeach #miamiweed #review #weedreviews #indica #sativa #hybrid #cbd #cannabinoid #thc #flower #instaweed #pictureoftheday #picoftheday #photooftheday #frosty #trichomesfordays