Strain Review: Gucci OG by Georgetown Flavors
GUCCI OG
Hybrid – 25% THC
@cloud9artgallery
@Georgetownflavors.rep @Georgetownflavors.lookbook
Lineage/Genetics: OG Kush x Unknown
Original Breeder: Unknown
Grower: Georgetown Flavors
Gucci OG Strain Review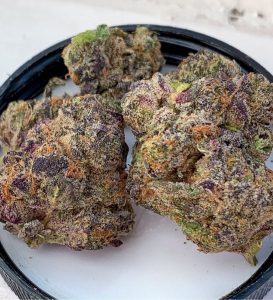 Appearance: An OG Kush phenotype, Gucci OG immediately draws attention given its eye popping color pallete. True to it's unique fashion icon namesake, Gucci OG stands out from the crowd, boasting eggplant purples, wine reds, spring greens, and fiery rust colored pistils. Swipe ➡️➡️➡️ to see the different shades of Gucci.
Taste: Gucci OG's inhale is earthy and malty, but the biggest takeaway is a berry flavor present from start to finish. For additional contracts, the back end introduces additional pine, frost, and just a hint of lemon-citrus.
Effect: Genetically a hybrid, Gucci OG certainly exhibits strong indica tendencies from first draw to linger effects. The strains cerebral effects rare originally uplifting, but ends in a cloudy, lazy haze. A "happy" high. Body effects creep up on you, blunting the stress/wear and tear of the day. I anticipate strong medicinal qualities. Not an instant knockout, but it's relaxation inducing qualities easily rival indicas.
#Budfinder
•
•
•
•
#dcbud #dc420 #420 #dcweed #mdweed #stoner #marijuana #dccannabisculture #budtender #strainfinder #thc #dcgrown #dcgrowers #cannabisdaily #dccannabis #dcdabbers #dcedibles #puffpuffpass #dcnightlife #dmv420 #topshelf #devilslettuce #stoner #whiteashonly #cleanmeds #i71 #GucciOG #OG #OGKush