Strain Review: Cookies and Cream by True Genetics
COOKIES & CREAM
@truegenetics_
@dope_dynastydc
Lineage/Genetics: Mystery Cookies x Starfighter F2
Original Breeder: Exotic Genetix
Grower: True Genetics
True Genetics Cookies and Cream Strain Review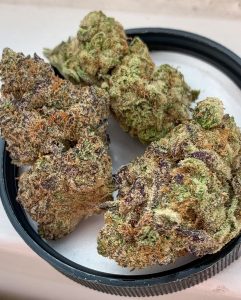 Appearance: Popping open the jar for the first time, I was blown away by Cookies & Cream. Large, fluffy nugs populated the jar, and immediately the deep purple and pale green hues provide a stunning visual contrast. Long, wirey pumpkin colored pistils emerge throughout. Cookies & Cream is frosty, with a thick trichome layer coating the exterior.
Taste: Smooth, earthy sweet inhale, with a hint of a Carmel/vanilla in some hits. A cakey cream flavor with a pinch of spice lingers on back end.
Effect: I noticed an initial face tingle within minutes, soon followed by a full-bodied warmth and melting relaxation. A true "body high" which lasted for a few hours. Not intensely cerebral at any one point, the strain does provide a small boost of energy early, keeping clarity high throughout the experience. However that body relaxation does consume the experience, expect Cookies and Cream to feel heavier as time passes.
Strength: 8.8/10
#Budfinder
•
•
•
•
#dcbud #dc420 #420 #dcweed #mdweed #stoner #marijuana #dccannabisculture #budtender #strainfinder #thc #dcgrown #dcgrowers #cannabisdaily #dccannabis #dcdabbers #dcedibles #puffpuffpass #dcnightlife #dmv420 #topshelf #devilslettuce #stoner #whiteashonly #cleanmeds #i71
Advertisements