Strain Review: Gelato Mintz by True Genetics
GELATO MINTZ
Lineage/Genetics: Unknown
Original Breeder: True Genetics
Grower: True Genetics
Gelato Mintz Strain Review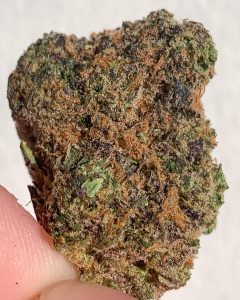 @rolledbypdc1
@truegenetics_
Gelato Mintz has a dense bud structure with alternating hues of forest green and eggplant purple, with wirey, amber pistils emerging throughout.
When hit from a bong, Gelato Mintz produced a mild earthy inhale with definite hints of pepper and spice. A cool, piney-sweet exhale really embodies a lingering "minty" flavor.
A quick hitting cerebral flush develops into a hazy, floaty head-heavy high. Light on overall body effects, Gelato Mintz still feels indica heavy given its intensely relaxing profile and commanding high. Best suited for end-of-day, Gelato Mintz is not the one to be smoked on a lunch break. Good luck getting back to work.
Strength: easy 8.5-9/10 pleasantly disorientating cerebral effects perfect for an night time smoke.
#Budfinder
•
•
•
•
#dcbud #dc420 #420 #dcweed #mdweed #stoner #marijuana #legalizedweed #dccannabisculture #budtender #strainfinder #thc #dcgrown #dcgrowers #cannabisdaily #dccannabis #dcdabbers #dcedibles #puffpuffpass #dcnightlife #dmv420 #topshelf #devilslettuce #stoner #whiteashonly #cleanmeds #i71 #gelato #gelatomintz
Advertisements