Strain Review: Marathon OG by True Genetics
MARATHON OG
Originally a 'joint venture' between The Cure Company and the late, great Nipsey Hussle, Marathon OG's reputation spans coast to coast. I was very curious to see an exclusive drop by @truegenetics_ featuring a strain by the same lineage. I knew needed to grab one for a review, and I was honestly impressed. S/O @dope_dynastydc for the gift.
Lineage/Genetics: OG Kush
Original Breeder: The Cure Company
Grower: True Genetics
Marathon OG Strain Review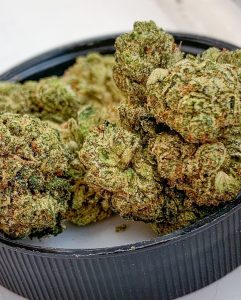 Appearance: Dense bud structure with pebble like, mildly flakey individual nuggets. Forest green exterior marbeled with a lighter 'doughy' greens. Sparse, syrup colored pistil groupings, and a heavy frosting of creamy trichomes complete the look on this subtle, yet potent strain.
Smoke: Marathon OG burns just right. One can expect your classic OG fuel flavor, with a strong kick of lemon pepper.
Effects: on the inhale, Marathon OG begins with an instantaneous head stone, the type where time moves at .75x for 5-10 seconds. The high then drifts down the body with a spine chilling tingle, yet followed by a warming sensation throughout. As a heavier high, anticipate relaxation, stress reduction and euphoria to be at a maximum. Marathon OG has knockout potential, so smoke with care!
Strength: 9.5/10
Update: A number of you have reached out to inform me that Marathon OG is exclusive to The Cure Company. This review IS NOT intended to misrepresent the famous west coast brand and strain. Never the less, strain name nor brand affiliation does not, and will never impact my reviews. I found this OG to be ⛽️, and I stand by my review.
#Budfinder
•
•
•
•
#dcbud #dc420 #420 #dcweed #mdweed #stoner #marijuana #dccannabisculture #budtender #strainfinder #thc #dcgrown #dcgrowers #cannabisdaily #dccannabis #dcdabbers #dcedibles #puffpuffpass #dcnightlife #dmv420 #topshelf #devilslettuce #stoner #whiteashonly #cleanmeds #i71 #nipsey #marathonog
Advertisements