Strain Review: Huapina by Shopping Carts
Haupina – @shoppingcarts.ca
Nose: Citrus, Fruity nutty, earthy
Inhale: Citrus, floral, sour, candy
Exhale: Candy, fruity, nutty, woody
Lineage/Genetics 🧬: Lemon Cherry Gelato x Gelato 41
Breeder/Bred by: Waiting on Confirmation
Grower/Cultivated by: Shopping Carts Shoppingcarts415
Terpene Profile: Unknown
Huapina Strain Review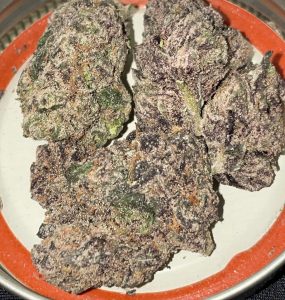 Hey what's up everyone? It is Tuesday and I have another two-part review to start the week. I featured these guys in a collab with Mount Burnin (Bad Motherfuckers) towards the end of last year but I have not gotten a chance to feature one by themselves. Shoppingcarts has built a reputation for themselves and is starting to be seen throughout various areas in the country other than just the Bay Area and a handful of dispensaries throughout Cali. With strains such as Haupia, Waupia, Poi, and the one I will be showcasing today, Haupina; There is no secret that this brand is known for their line of fruity, tropical gas flavors. Let's waste no more time and get into the facts.
The Haupina came in a creative, torquoised-colored direct-to-print mylar bag. Honestly, based on the feel of the packaging I didn't think it was mylar at first glance until I opened it up and saw the the foil on the inside. This featured the same one-tooth head figured that was featured on Bad Motherfuckers bag art. However, it came in the representation of a coconut on this one surfing with a similar style pineapple on a small wooden board. On the back showed "tropical vibes" written which I thought summed up the overall appeal of the marketing pretty well.
It didn't take long at all for the effects from the Haupina to kick in. As I was obtaining heavy pulls during the sesh, I felt the gassy effects hit my head which made the beginning of the high throbbingly cerebral. By the end of the sesh I had a full on body high which could exceptionally be felt in the back and neck area. I felt a loss of perception while seshing with the Haupina and even fumbled a couple of words (which doesn't happen too often). Personally, I felt an overall carefreeness put out with the medicinal effects from this cultivar. This made it a perfect offering to enjoy at night while chilling out watching a show or a game. I would definitely keep some hard candy and/or some snacks handy because my breath stunk after this and, not to mention, I was very hungry. The total duration of this high lasted a good hour and half to two hours which seemed to go on forever. This was a great compliment to a well-rounded smoke ultimately leaving me chilled out but a little burnt. I didn't get too much done after feeling the effects of the Haupina.
Personally, I would recommend the Haupina to intermediate to veteran level smokers who are looking for a powerful smoke to end the day. I believe this would be a no-brained for any smoker enjoys new flavor and terp prfofiles. The distinct pineapple gas will appeal to anyone into citrus or fruity strain profiles. Additionally, the gassy output from this cultivar will probably also have appeal to the more OG-leaning smokers out there I would imagine. The effects of this are not for the weak of heart. Although I don't think intermediate smokers should shy away from the Haupina, some may tap out little earlier than normal. Not to include the fact those who deal with any pain-related illness or appetite loss are sure to find relief with this offering. I really think minus a few kinks on the aesthetics on this one, Shoppingcarts415 hit it out of the park with this batch of Haupina in regards to smoke quality and medicinal effects. As mentioned earlier, I will have the Waupia up for review sometime later this week.
When I sparked the Haupina in an Organic RAW, I got a swift taste of lemon citrus on the initial inhales. Similar to when the bud was broken down, I felt the Gelato 41 terps dominance and a bit of floral and diesel notes to go along with it. On the way out, I got those same strong citrus, fruity terps I pulled in with an extremely gassy and nutty finish. Additionally, I got a slight after taste of wood and sour fruit that lingered on my tongue for a little afterwards the sesh. Near a 1/3 of the way in on the joint, I started to experience distinct terps of pineapple that gave the Gelato 41 more of a perfume flavor that was similar to what I smelt upon break up also. Also felt more subtle z terps and candy on the exhale around a half of the way through. At some points around this time, the I received a mild rubbery, doughy taste in the midst of those more pungent tropical terps. Needless to say there was no shortage of flavor with the Haupina. The pulls were as gassy as much as they had that sharp fruit taste to it. This eventually did lead to a bit of coughing but you could tell by the smoke that this was clean gas. The burn on the Haupina was exceptional and resulted in a thick paper-mâché coiled white ash that was sturdy. Even with a few strong shakes the ash didn't move an inch. Although the ash was strong I did not see a res ring present throughout the sesh which may be attributed to the mild dryness on the buds. Towards the end of the sesh, I did notice the candy taste had more of a floral blend to it which carried out until the final pulls. The smokability on this was nothing short of excellent and easily the tastiest smoke I've had so far into 2022 (yes, I know we're only like 10 days in but still).
When I opened up the packaging on the Haupina, I was met with a sharp and tender fruitiness that I almost compare to the small Guava candies I used to steal by the handful when I worked at an Hibachi taste. In addition to this, the nose a bit of a nutty and earthy aroma that could be found within the more pungent fruit smells. When I pulled the nugs out, I was met with impressive sized buds (3 large nugs made up this eighth) that appeared dense and leafy. Upon holding them, they felt a little dry but I did feel a stickiness, as well as kief particles stuck to my fingers, when I cracked open the buds. They were completely purped out mixed in with some lighter and dark green hues. Similar to most stuff I have come across in Mylar bags around Boston, the buds in this bag were also a bit squished in which is most likely due to transport. Despite some pistils being more tucked away than others, the white coating over the structure of the Haupina due to the trichrome coverage was magnificent. The yield upon break up of the Haupina was a lot better than expected given the Gelato-dominant make-up in the lineage. Upon break up, a smell of pineapple became slightly prevalent while I did noticed a strong smell of Gelato 41. This was a fruity diesel perfume that emanated once the buds were broken down. I was able to fill up the joint quite nicely considering the break-up and received a dry pull that was packed with pineapple, orange, floral and a hint of lime in it.
Advertisements