Strain Review: Insane Magic Melon from Dr. Greenthumbs
Great day to you all! ☀️
After an amazing cannabis expedition in the beautiful #losangeles im happy to bring you another lineup of high quality products straight from the motherland!
We start of with the pioneer himself Dr Greenthumb and his Insane magic melon 🤤
Lineage/Genetics: Mango Trees x Honeydew Melon x Mango Sherbet
Original Breeder: Humboldt Seed Company
Grower: INSANE OG
Dispensary: Dr. Greenthumbs
Insane Magic Melon Strain Review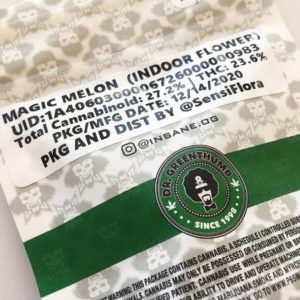 The first impression is the unique smell rising as you put your nose to the bag. It reminded me alot of pink rozay from cookies. It has a yeasty soft funk to it. Not over powered at all in fact it was subtle and calming.
The condition of the nuggs were great it had a spongey bounce to the touch and gave a crispy crunch sound as you tore apart the 3 gram nugget.
I enjoyed the calm character it carried with its visuals. The lighter green hues covered by orange hairs along with spots of dark purple show they allowed the plant to be itself and not forcing purple coloration where not needed. The trichomes were not a gleaming as other strains I have encountered but it added to what I see as a welcoming cultivar.
The terpenes were the reason I had looked forward to consuming Magic Melon for so long. I really was not disappointed at all while smoking I enjoyed a soft and sweet experience. It truthfully tasted like a 🌴tropical flavor of double bubble chewing gum. It fades slightly as you smoke and it develops a hazey palette on the exhale. The effects CREEP up on you one moment you are walking to the cafe for a cold brew the second moment you are 🤩 gazing into the oblivion of the cafe menu wondering how many ways you could build your morning brew.
The synopsis is evident I am sure. I really enjoyed the delight of this pack I received. I hold alot of respect for @insane.og and @drgreenthumbs and hope to see you guys push these great strains throughout the land. This is the quality people deserve out of a dispensary product and now I know where the bar has been raised. Visual taste and effects all checked off.
Insane Magic Melon gets an 8/10 🚀🚀🚀🚀🚀
———
#insaneog #cannibisculture #legalcannabis #medicalmarijuana #dispensary #fsc420 #california
Advertisements