Strain Review: Italian Ice by 5 Points LA
Strain: Italian Ice
Who: @backpackboyz420__41510 @5points.la
Lineage: Forbidden Fruit x Gelato 45
Indica or Sativa: Indica dominant Hybrid
Original Breeder: Cali Connection
Grower: 5 Points LA
Distributor: Backpack Boyz
Italian Ice Strain Review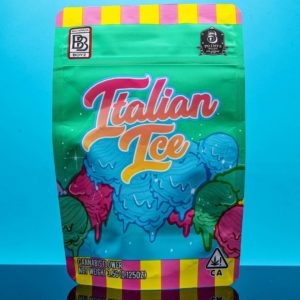 Product 📸: @cali.budshots
Stats: 24.456% THC – .043% CBD
26.653% Total Cannabinoids
Aroma: Sweet Blackberry, Grape, Sourdough Bread, Funk.
Palate: Blackberry Seed, Overripe Banana, Smooth Gas Exhaust.
Structure: Sticky. Looks like it was a collab w/ @swavorski_crystals – Dense little nugs, but I'm not complaining. Very dark purple, with lighter shades of green and tiny little orange pistils creep out like a little jungle.
Medicinal Effect: A potent hybrid. Spacey head-high, strong body. The full package. Great for pain relief and getting knocked the fuck down.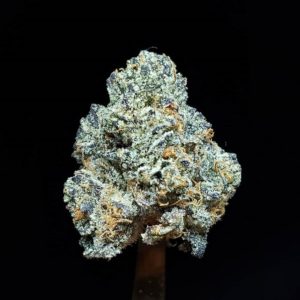 Overall: This is not the first strain I've tried from @backpackboyz420__41510 but it is the first I've posted for review. When I open the package the bud saluted me with some strong fruit and funk, almost musky. It could be mistaken for being gassy, but this is something a little different. It's more sour and sweaty, in a good way. This stuff is stank. Combustion is heavy on the lungs, it's a thick feeling smoke, but still moderately smooth. The palate doesn't give me as much sweet fruit as the packaging suggests, but instead a dry sensation. Think about the taste you have when biting into the seed of a blackberry or watermelon seed. Then it develops into familiar #gelato terrain. And that taste does stick to the roof of your mouth and linger for quite some time. I have to mention… the packaging, hype, and branding really do it for me here. It feels exclusive to smoke. And that definitely adds to the feeling you get while smoking. That being said, I have really enjoyed each and every strain I've had from them so far and this is just the first with some #tamarindoz on the way. Another great drop that hasn't even hit the dispensaries. Be sure to grab 'em while ya can cause it's sure to sell out. And I feel like the hype is only getting stronger.
The Fire Scale: 9/10 flame-soopas
🔥🔥🔥🔥🔥🔥🔥🔥🔥
#cannabis #420 #lacannabis #weedporn #cannaseur #nugshot #fire #thefirescale #og #kush #weedstagram420 #weed #strainreview #wesmokedifferent #indica #sativa #hybrid #cannabiscommunity #stayhigh #weedstagram #hightimes #smokeweed #smokeweedeveryday #cannaseur #thefirescale #italianice #'gelato45 #forbiddenfruit #backpackboyz