Strain Review: Loma Prieta by Grandiflora
Yee! I am lagging! Been busy with work life, storm killed power so yah. Good times. This was picked up around Xmas btw.
. @grandifloragenetics
. @grandifloramark
. @trunorcal420_
. @lemonnadesacramento
. @westcoastsmokeshow
Brand: Grandiflora by Belo INC/Heshies
Cultivar: Loma Prieta
Lineage/Genetics: Melonatta x Project 4516 x Mystery Strain
Original Breeder: Grandiflora Genetics
Grower: Grandiflora
Dispensary: Lemonnade Sacramento
Loma Prieta Strain Review
18.95 %THC
<2% CBD
Pkg/MFG Date: 8.25.2020
Comments: Haven't tried em but have seen and heard good things from other reviewers Grandiflora.
Review
1. Scent: Getting gas, slight sunscreenish minty, and green "living" earth.
2. Appearance: Well, as you can see the money nug is purple in some very small spots. The red fire hairs really stand out. Other C sized buds just look great. Wish I had a better zoom like the more veteran folks. 🙏🏻
3. Nug Structure: Tight enough to want to use the grinder, but loose enough to work with if one enjoys bitter plant matter. Grinding does sometimes make the bubbler bowls burn faster/fall down the carb. (Hella lame!)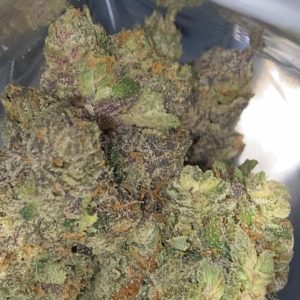 4. Smoke: Little warm on left side during exhale. Little nose tingles as well but the smoke is nice and smooth. No coughing off bub.
5. Taste: Nice palate of pine, gas, and a tinge of that mint.
6. Reaction: Fiesta vibes. Great uplifting sensation almost instantly carrying thru to heavy eyes on the outer & upper areas. But able to focus on stuff no prob.
7. Conclusion: Stoned hard thru the holiday season with this. Very happy with the result but the ticket is on the upper end of the spectrum so beware of that. I'm likely to grab again tbh.
#NoHashTagz
Advertisements