Strain Review: Peanut Butter Breath by ReLeaf Health
With everything going on, it kinda feels like a weird time to drop a review. People are losing everything, they're terrified and exhausted. It's a really scary time.
Having a platform like this is weird for me. I don't want to waste it with silence, but at the same time, I also want this page to be a bit of a break from the world for my readers. A white fella in the middle of Portland isn't the one you should be going to for information on fires or racial justice anyway. I only try repost the people worth listening to.
In both the vein of being a bit of a breather from the world, and signal boosting someone worth listening to, I wanna bang out this Peanut Butter Breath review from @releafhealthcannabis.
Lineage/Genetics: Do-si-dos x Mendo Breath F2
Original Breeder: ThugPug Genetics
Grower: ReLeaf Health
Releaf Health Peanut Butter Breath Strain Review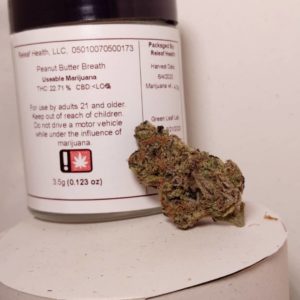 These guys don't carry the same weed as everyone else, so I just ask for the budtender recommendations. She said the PBB before I even finished my sentence, so you know I had to grab some.
It has this really unique, sweet nutty smell. Hints of peanut butter cookie dough and parmesan cheese to the nose, straight peanut butter on the inhale. The flavor chasers are gonna dig this one.
The high was pleasantly stoney. It's gonna serve you well any time, but is especially well served in the evening to chill out and relax. Heaviness on the eyes and body, with a giggly euphoria that would appeal to anyone. It wasn't a super high tester, so this is one I'd recommend to just about anyone. The density and cure were perfect for bowl smokers and doobie rollers alike.
I don't stop in to @releafhealthcannabis nearly as often as I should. I recommend them to anyone in the neighborhood, especially if you're on a budget. I have another review coming from them. Hopefully our world will calm down a bit soon and people can start to get their lives back in order. Make sure you support the hell out of your local farmer's after this.
If there's someone who needs a signal boost, shoot a DM. I'm gladly reposting any pertinent info I get. Stay safe everyone.
#thehighestcritic #strainreview #strainreviews #weedreviews #420review #portlandcannabis #OMMP #portlandweedreviews #MMJ #oregoncannabiscommunity #portlandcannabiscommunity #oregonweedreviews #Medicate #oregoncannabis #PNWStoners #PDXcannabiscommunity #pdxcannabis #pdxstoners #cannabiscommunity #cannabisreviews