Strain Review: Apple Crisp by Balanced Los Angeles
Strain: Apple Crisp
Who: @balancedlosangeles
Lineage/Genetics: Apple Gelato x OG Kush
Original Breeder: Unknown
Grower: Balanced Los Angeles
Apple Crisp Strain Review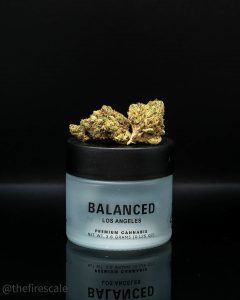 Stats: 26.73% THC .08% CBD
32.06% Total Cannabinoids
Aroma: Spearmint Musk, Vanilla, Seabreeze, Gym Pool.
Structure: Medium-Small nugs. Light, yet dense. Lackluster cure.
Palate: Green Jolly Rancher, White Gummy Bear, Mothball finish.
Effect: Average Strength – Euphoric, Alert, Mild Body Buzz, Slightly elevated heart rate.
Overall: There's been some stellar apple crosses lately like @alienlabs Cosmic Crisp – @lumpysflowers Apple Fritter and @backpackboyz4twenty Apple Gelato so I was more than pumped to pick another strain off the vine for sampling.
As I crack open the jar there is a whisper of sour spearmint. I have to bring the bud up to nose and crack it to discover faint notes of sweet cream, salt, and something that resembles the smell of the air inside a room with a highly chlorinated pool. Weird, man. Even though they're quiet, these terps tell me that we could be in for a very interesting flavor profile.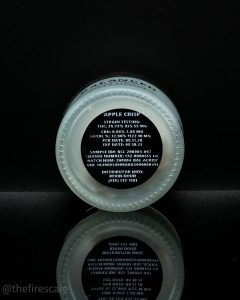 If you can imagine what it's like to pick up an anvil made of Styrofoam, well that's what it feels like picking up these buds. Clearly dense, but lacking weight, this one is throwing me for a loop. This is my first experience from Balanced LA, and it was picked up as part of a bundle from a @pauseplay420 box – I hope nothing went wrong in transit. The package date is 8/11 so I'm only cracking into this with less than a month on the shelf life, we shouldn't have this problem.
Inhale is smooth and delicate, and on the exhale I get a cleansing green apple candy flavor that has a slight floral element like Zkittles, but not aggressive. There's a velvet soft cream that turns into the powder-like sensation you get from licking the outside of a marshmallow. Don't judge.
With crosses like Apple Gelato x OG Kush I should be salivating over sour, musky, forest-like notes. Geez, I'm getting excited just thinking about it. But unfortunately that wasn't close to anything I got.
The Fire Scale: 5/10 flame-xedis
🔥🔥🔥🔥🔥
What apple crosses are your favorites? What other strains from Balanced LA have you had? What was your experience?
Edit: Brought #thefirescale down to 5