Strain Review: Strawbinati by 3C Farms
Strain: Strawbinati
Who: @3c.farms
Lineage: 3C Strawberry Fields x 3C Illuminati OG x Fruity Pebbles
Original Breeder: 3C Farms
Grower: 3C Farms
Dispensary: Kush Alley
Strawbinati Strain Review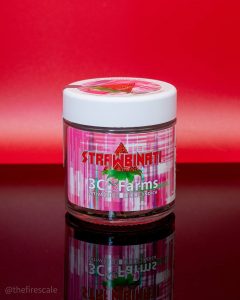 Stats: 25.06% Total Cannabinoids
Aroma: Rose, Sawdust, Artisanal Soap, Dirty Socks.
Structure: One enormous nug 🤘🔥 Leafy, yet packed tight. Reminds me of an old cut of Sage or a Lavender type strain that bumped into a Strawberry Cough cross, but settled down with a bushy, pine-focused indica.
Palate: Dryer Sheet, Yogurt-Coated Rose Petal, Bay Leaf, Lingering Candy Chalk & Pepper.
Effect: Average Strength – Clear focus, Sativa effects are there, but still calming with nice mellow body buzz.
Overall: Opening the jar, I was hoping for some juicy fruit and OG terps, but instead I get the sensation that I'm at the mall walking past a Yankee Candle. This floral combination doesn't harmonize too well for my senses, and the aroma is pretty quiet.
Packaged on 6/29 and cracked open on 8/4 (as you can tell, I'm a bit behind on reviews at the moment), I would assume that the 1/8th I bought wouldn't have sat around for too long; but the large, beautiful nug that I got was very dry.
I loaded a bowl and took a hit for an initial impression and then threw a 62% Boveda pack into an airtight container with the herb for a week to see if it might have a sporting chance.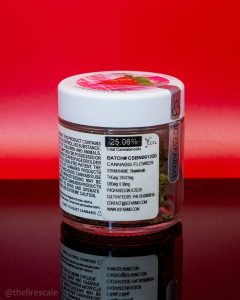 Meanwhile, as I dug into the rich history of how this bud came to be, I'm seeing that Josh D's 1996 Club 33 OG cut is deep within this DNA of this strain. Clearly, it is in good company.
After proper humidity control, I combusted this herb to find the floral notes were boosted with some milky spice, but a complete absence of Strawberry. I'm just disappointed that batch has such a lack of flavor.
I don't think this is the product that @3c.farms intended for us to have in our hands, but unfortunately this is what's out there.
The Fire Scale: 6/10 flame-ting-uh-rings
🔥🔥🔥🔥🔥🔥
What's the next strain from 3C Farms should I grab? They need another shot. Comment with your favorite 3C Strains and your favorite Strawberry strains 🍓🔥
#cannaseur #nugshot #thefirescale #weedstagram420 #strainreview #wesmokedifferent #indica #sativa #cannabiscommunity #stayhigh #weedstagram #hightimes #weedporn #smokeweedeveryday #nugmag #3c #3cfarms #strawbinati
Advertisements