Strain Review: XXX OG by Maven Genetics
Strain: XXX OG
Who: @maven_mvn
Original Breeder: Maven Genetics
Grower: Maven Genetics
Dispensary: Kush Alley
XXX OG Strain Review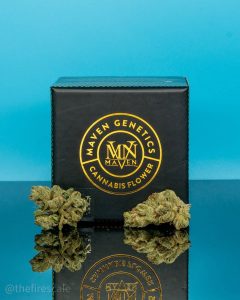 Stats: 34.534% THC .054
40.472% Total Cannabinoids
Aroma: Pine Kush, Anise, Bubblegum.
Structure: Bushy, dense, long leaves. Sticky like glue, amazing cure. Medium nugs.
Palate: Sweet Mint, Cannabis Leaf, Black Pepper, Butane and Soil finish.
Effect: Above-Average Strength – Uplifting, Euphoric.
Overall: Equipped with a brand new piece of paper with a shiny gold seal, I walked proud, yet nervous, steps towards a glass counter of mason jars. The skunky aroma of terpenes released from multiple strains hit my nose all at once for the first time.
It was 2007, and this wasn't my first time buying weed, but it was my first time in a dispensary. I asked for their best indica, because at the time I thought they all put you to sleep, and the budtender recommended XXX OG. It was dank, and an amazing introduction to this strain with classic roots. Fast forward to today as I crack open this batch from @maven_mvn – Let's go.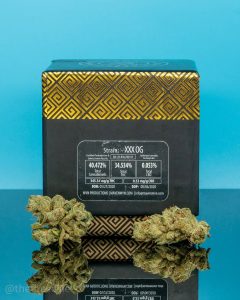 Nose is exactly the same as I remember. It's that sweet kushy pine with a hint of black licorice that is often imitated in the form of novelty cannabis soaps, candies, and whatnot. Yet this is authentic.
Buds are sticky icky, like glue, but break apart leaf by leaf with ease as I pack my bowl. Note that it does take a bit of extra heat than normal to burn white.
Proverbial notes of OG are there, admist pepper, and a lingering light gas with earth finish. If you've been curious enough to chew on a leaf of your bud just to see what it tastes like then you will note a similar profile.
The effects are powerful, and Maven did a killer job on the grow and cure with this one. And I really hate to be a crabby Patty, but I wish the aroma and taste were a bit louder. I can decipher everything, but it's much more muted than I would hope for. So, for this batch a strong:
The Fire Scale: 7/10 flame-klooomas
🔥🔥🔥🔥🔥🔥🔥
What was the first strain you picked up that made an impact on you? Dispensary or not, go!
#cannaseur #nugshot #thefirescale #wesmokedifferent #cannabiscommunity #stayhigh #weedstagram #hightimes #weedporn #smokeweedeveryday #mmj #thc #weedreview #westcoastweed #cannabisphotography #cannabisconnoisseur #weedsociety #mavengenetics #xxxog #ogkush
Check out more reviews by @thefirescale on Instagram! (www.instagram.com/thefirescale)