Strain Review: Dosi Mints by High Noon Cultivation
Some of my favorite reviews have been from @high_noon_cult. They were one of the first farms to really interact with me, plus their products are frankly top of the fucking line. I've written love letters to their Triple Chocolate Chip and Black Cherry Punch, I've ended many a day happily with some Irish Cream, and their Helen Back Pinesiccle is a unique sativa hybrid I think everyone should try.
Lineage/Genetics: Dosidos x Sin Mint Cookies
Original Breeder: Sin City Seeds
Grower: High Noon Cultivation
Dispensary: Tetra Cannabis
Dosi Mints Strain Review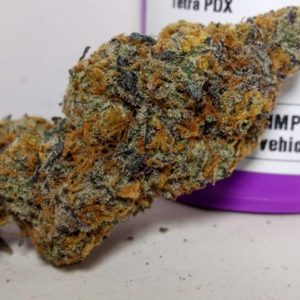 Given my feelings for this farm, you can imagine my excitement when the manager at @tetra.pdx told me they were gonna be getting some of their new Dosi-Mints flower. Dosidos is a fantastic local staple for anyone suffering from anxiety, pain, general stress, insomnia, and like all the other shit that makes my day tiring, so just the genetics sounded like a personal bullseye for me.
I'll get to the flavor and smell in a bit, but this shit was a knock out punch to the face, man. Fat rips of this stuff absolutely melted my face off with stoney euphoria. One of those exhales you feel through your whole torso, it moves into your jaw and cheeks, and you just feel it for a few minutes. Had me in the couch, low eyes, giggling my ass off, and straight up falling asleep a few times. Just a fantastic experience.
The smell was this kinda sugar frosted Kush Mints with some hash and chocolate underneath. Super complex like some Kush Mints flavored Boo Berry or something. Berry and grape notes didn't come through hard in the scent, but were the most notable flavor I got. Natural and artificial grape juice with Blue Dye #1 for a blue raspberry hint.
You've seen me pee my pants over a number of farms so far, but these guys are the ones I think everyone is sleeping on the most. Give their stuff a try when you can. It's all fantastic. I'll try to review some more. Hopefully they do a new batch of the Irish Cream soon. I love that stuff.
*Wink wink*
#thehighestcritic #strainreview #strainreviews #weedreviews #420review #portlandcannabis #OMMP #portlandweedreviews #MMJ #oregoncannabiscommunity #portlandcannabiscommunity #oregonweedreviews #Medicate #oregoncannabis #PNWStoners #PDXcannabiscommunity #pdxcannabis #pdxstoners #cannabiscommunity #cannabisreviews
Advertisements