Strain Review: L'Orange by Cannabiotix
Strain: L'Orange
Who: @cannabiotix
Lineage/Genetics: Orange Crush x Lemonburst
Original Breeder: Limited Tree Genetics
Grower: Cannabiotix
L'Orange Strain Review by thefirescale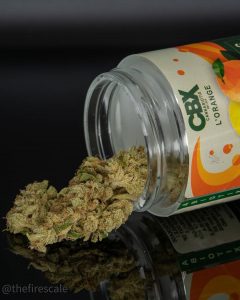 Stats: 28.83% THC .05% CBD
33.30% Total Cannabinoids
2.39% Total Terpenes
Aroma: Cheddar Cheese, Orange Rind, Lemon Pledge, Citrus Grove.
Structure: Airy, Wispy, pulls apart like a cotton ball. Excellent cure, coated in a light sheen of icy frost.
Palate: Orange Push Pop, Lemon Wax Candy, Metallic Ammonia, lingering Sour Cheese.
Effect: Above-Average Strength – Energetic, focused, alert. A true caffeine-like sativa that did not rise my heart rate.
Overall: These terps are literally screaming from the jar as I opened it. These are the most assertive cheese, orange zest, and astringent lemon ammonia aromas that I have ever smelled in a strain. It's also extremely odd, as these smells don't seem to mix on paper, yet the the jar doesn't go towards seeming acrid.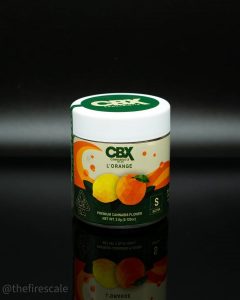 In true sativa-like fashion, these buds are long, braided, and leafy. It's an excellent cure, but not terribly sticky. I feel like it could blow off the stem if I breathe too hard, but it stays firm.
Thankfully, the flavor isn't as dominating as the aroma, but it still coats my mouth with flavor from each hit. If it was any more aggressive I don't know if I'd be able to handle it. You can taste the orange tree, lemon peel, and for the first time in all my experiences… the taste of sour cheese.
Let me tell you, I have never ever been able to taste the sour dairy notes in U.K. Cheese before, or any other cheesy strain, they only show up in the aroma. But not this one, and it is funky af.
The strong head rush is what I'm looking for in a Sativa, but I'll be honest… orange and lemon terps are not my favorite. That being said, for me to actually tolerate, and somewhat crave, this weird flavor, AND for it to hit as hard as it does, well this has got to be an incredible strain.
The Fire Scale: 9/10 flame-yoo-hauls
🔥🔥🔥🔥🔥🔥🔥🔥🔥
Have you tried L'Orange? How do you feel about orange terps? Do you have a favorite citrus-forward strain?
#cannaseur #nugshot #thefirescale #kush #weedstagram420 #strainreview #wesmokedifferent #indica #sativa #cannabiscommunity #stayhigh #weedstagram #hightimes #smokeweedeveryday #nugmag #cbxlife #lorange #orangecrush #lemonburst
L'Orange Cannabis cultivar (Strain) review by thecannaisseurking
🍋🍊 L'orange: Orange Crush x Lemon Burst ?
@cannabiotixfarms @cbx_cannabiotix @916candleslit @limitedtreegenetics
Again, unc came clutch. Came thru with some ridiculous sativa! Straight off the bat crack open a fresh new jar, big ass nug! Smells like straight orange peels with that tangy sweet lemon backend . Has this diesel build with that classic citrus orange strain specific look! The nose couldn't be more appealing to me. I said awhile ago I love the lemon strains and orange ones! When @lemonnadesacramento was comin in hot with the super fire sativas. They never disappointed 💯 I also always said that @cbx_cannabiotix mastered OGs. From bubblegum to Wi-Fi OG to these sativas. They have a heavy arsenal of OG strains out roaming around cali. Every-time so far it's been the same great experience. Never a negative experience! Break up the nug and you can tell by the trichs and feel of the nug that it's gonna be sticky! Broke up in nice sticky prices . The orange nose and lemon sweet sour background couldn't have been screaming any louder! I know people don't like their sativas out in sac but man their effects they listed are 100% accurate! Rolled up a nice joint, sparked up instantly , and the first few hits were really lemony, piney tang with a heavy kerosine exhale. Super chokey, real nice quality when you wanna get brought back! They do a great job , the high definitely did it's job, definitely worked as a sativa! Mind racin, chest beat and real focused on whatever it is you wanna be focused on! Loved this one 💯🍋🍊👑 #WillBeBack #CerealMilk #BubbleGum #Wifi #WhiteWalker #Thrones #WhosKing? #CBX #WhatsNext? #SacOnTheMap #Worldwide #TooTasty #CantGoBack #CanYouHearMeNow #Mondazed #Preferred #YouKnowThe #Vibes #PAID #StackAndChase #WhoGotThe #Juice #OCB #Unc #LimitedTrees #Visionaries #TheOriginal #King #Cannsaurus👑🦖
Advertisements