Strain Review: Piña Acaí by Grandiflora
Piña açaí by grandifloralgenetics
Lineage/Genetics: Unknown
Original Breeder: Grandiflora Genetics
Grower: Grandiflora
Pina Acai Strain Review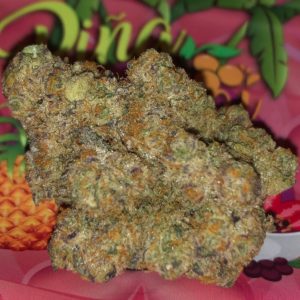 8.5/10
funny thing was I was tryna avoid this strain when I was on cookies modesto and they had it labeled as pink açaí.
Nonetheless, it's still a good strain very tasty pineapple notes with a little bit of berry in between.
The Nug has straight flavor when you break it down it just starts smelling more and more filling the room with fruity smell.
But on the smoke it is over powered by pineapple more you smoke the more you taste the pineapple over the berry.
Advertisements