Strain Review: Platinum Huckleberry Cookies by Deep Creek Farms
I always forget how many boxes Platinum Cookies checks for me as a strain. Every time so get either proper PGSC, or a cross of it, it hits me right in the face. This Platinum Huckleberry Cookies by @deepcreekgardens did that and then some.
Lineage/Genetics: Oregon Huckleberry x Professor P's Platinum GSC
Original Breeder: Dynasty Seeds
Grower: Deep Creek Farms
Dispensary: Treehouse Collective
Platinum Huckleberry Cookies Strain Review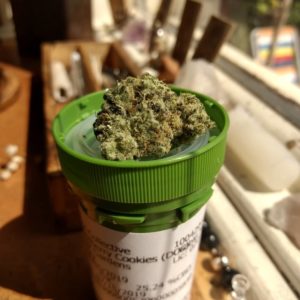 The potent euphoria and relaxation it provides immediately on the draw is powerful, yet activity is possible if desired. It relaxes the body and mind in such a way that sleep is easy and deep.
The taste…Oh the taste. Textbook PGSC with a heavy fruit undertone that really rounds out the flavor profile. Trichomes so sticky it practically rolls itself when ground.
This ends my love letter to these dried flowers. I was gonna squeeze it into the Peanut Butter Breath rosin post, but tell me this doesn't deserve its own post.
.
.
.
#cannabiscommunity #cookiesorbetter #gsc #smokeweedeveryday #portlandweed #justblazeig #weedstagram420 #weedporndaily #wedontsmokethesame #weedporn #weed #ganja #higherthanmost #highsociety #highgrade #topshelf #OMMP #medicalmarijuana #Medicate #weshouldsmoke #fueledbythc #cannasseur #oregonweed
Advertisements