Strain Review: Purple Chem by Cannasseur Chicago
Personal mention!!
Purple Chem!!! 💜
Lineage/Genetics: Chemdawg x Pre 98 Bubba Kush
Original Breeder: The Cali Connection
Grower: Cannasseur Chicago
Purple Chem Strain Review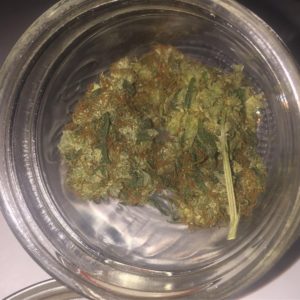 -This is from a great passionate knowledgable grower I know who gave me some free samples to feature on my channel. Big thank you for this and here goes. @cannasseurchicago
-I pop the mason jar open and am met with a soft delicate tea aroma. Very close to anise and a mixed scent of creamy sweetness and fuel.
-The nuggets were dense dark green acorn sized buds with daddy long leg hairs of orange erecting from multiple areas. They were fresh so they were spongey and soft to the touch, after tearing one open you see these cradled trichomes revealed. The sticky factor shows up as well on the breakdown and inner layers.
-After grinding down the buds I pour out grinds that reveal a strong sour fuel aroma. It was sticky so the cannabis grinds attached themselves to each other like wet rice. I surely was impressed by the diesel gasses that were released.
-As I smoked the cannabis I received a pleasantly smooth smoke. The flavors were subtle sour with a creamy sweet finish. This gave me memories of eating that seven up cake you find in grocery stores. The lemon lime sweetness pulls forth very nicely leaving you with a great high that you feel from the shoulders up. There was a head throb that shows up which felt awesome.
-I saw so much more quality than I am used to in these Illinois dispensaries. It felt clean and tasted smooth. I just blew through this on my birthday last week and want to give an extra thank you to my guy for this pick up. I know it will get even better from here.
Purple Chem gets an 8/10
🔥🔥🔥🔥🔥🔥
————
#illinois #legalcannabis #medicalcannabis #cannabiscomunity #cannabisculture #dgc