Strain Review: Mendo Breath by Ananda Farms
This Mendo Breath ((OGKB x Cherry Pie Kush) x Mendo Montage) bred by Gage Green Group and grown by Ananda Farms has big dense buds that are tightly trimmed and totally frosted 👍🏼
Lineage/Genetics: OGKB x Cherry Pie Kush x Mendo Montage
Breeder: Gage Green Group
Grower: Ananda Farms
Mendo Breath Strain Review
Smell was a little light until I cracked a nug, but inside is a very strong funky earthy garlic gas profile 🧄⛽🔥 The inside of this Mendo Breath is crazy frosty and breaking the buds up leaves my fingers sticky.
The flavor, although a bit light, was very nice in my vape. Gassy garlic earth that is similar to GMO 😋 Vapor was smooth and thick. High was stoney in my head with some nice body relief as well 🤗 This one would have been a real winner for me if it just had a little more nose to it before I cracked the buds.
2020 Full Season Harvest
This review was done for Ananda Farms
Honest Reviews 🕵️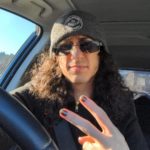 Hi! My name is Ryan and I do honest product reviews for the Oregon cannabis industry under the brand The Sophisticated Dabber. I've doing doing product reviews in Oregon for the last few years now and I have been a cannabis consumer/patient in Oregon for almost 19 years. I run a blog on IG @thesophisticateddabber and also make dab tools with hand turned wooden handles @sophisticateddabtools . Hope you enjoy my reviews!
Advertisements