Strain Review: Sherb Breath by Georgetown Flavors
SHERB BREATH
Lineage/Genetics: Sherbert x Peanut Butter Breath
Original Breeder: ThugPug Genetics
Grower: Georgetown Flavors
Sherb Breath Strain Review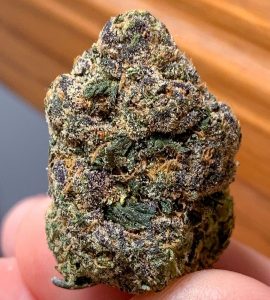 @georgetownflavors.lookbook
@islandboyzexotics_official1
Sherb Breath has a particularly unique look given its classic kush green understructure, which appear almost "dipped" in rich violet hues, and rolled in a fine layer of sugary trichomes and orange pistils. Buds were incredibly fluffy and light making the hand grind incredibly enjoyable. A+ prep on this cut. Sherb Breath's nose is quite pungent, notably a complex mix of nuttiness, kush and sweet pine.
When it comes to taste/flavor, it's genetics truly reveal themselves. The inhale is very PB Breath oriented – a thick, nutty, peppery and earthy inhale. On the exhale, the profile of Sherbert is amplified due to the contrast, as notes of honey, citrus and berry become particularly evident.
As indicated by it's genetics (Hybrid/Indica cross), the effects of Sherb Breath lean towards the Indica side. A warming, intoxicating "body buzz" was the first thing I felt, the type that make you zone out with the bong in hand. A care free, trance inducing high. Pleasurably body-heavy throughout, I didn't notice a particularly strong head change, rather, the strain seems ideal for stress, life and load management.
Strength: 8/10 – Sherb Breath gets your mind and body right, and, in larger quantities, will leave you glued to your seat for hours. Not a 1 hit KO, but 2-3 bowl snaps had me set all evening. I have a feeling this strain would be further enhanced by a vape.
#Budfinder
•
•
•
•
#dcbud #dc420 #420 #dcweed #mdweed #stoner #marijuana #legalizedweed #dccannabisculture #budtender #strainfinder #thc #dcgrown #dcgrowers #cannabisdaily #dccannabis #dcdabbers #dcedibles #puffpuffpass #dcnightlife #dmv420 #topshelf #devilslettuce #stoner #whiteashonly #cleanmeds #i71 #pbbreath #peanutbutter