Strain Review: Sugar Plum by Zaba Cannabis Co.
SUGAR PLUM
By: @zabacannabisco
Via: @24k_exotics
Lineage/Genetics: Berkeley Blues x Hawaiian Haze Plum
Original Breeder: Stoney Girl Gardens
Grower: Zaba Cannabis Co.
Sugar Plum Strain Review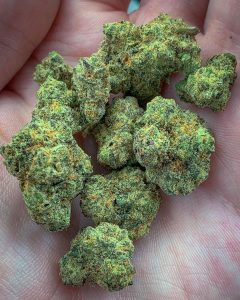 @24_exotics continues to bless the people, bringing more and more of that unique 🔥 from a number of up and coming brands. This week, they brought Zaba Cannabis Co. to us customers, and here we have Sugar Plum, which might just be a new favorite between some beautiful colors, serious berry terps, and a potent array of effects.
The seven(!!) grams contained in his mylar were comprised of small to medium sized buds, with a tight, clumpy, dense bud structure. Not ideal for photography, but sometimes the small buds show the strains physical characteristics best. Sugar Plum possesses a striking contrast between its base, dark plum and wine colored buds, and bright spring greens throughout the exterior. Streaks of deep blue are also present on many of the smaller nugs. Like a powdered donut, the trichomes on these buds are heavily caked on and will linger on your fingers long after handling.
Sugar Plum's nose and flavor matched up almost perfectly. Berry dominant, with a sweet 'cherry punch' tang, and a rubbery, earthy diesel on the backend. Surprisingly smooth. This is pure, sugar coated gas, and I honestly cannot get enough of it. I love the way these blueberry-like terps infuse themselves into an otherwise fuel heavy, earthy smoke. A+
The onset of Sugar Plum's effects happen almost instantly. You can feel any mental tension drain away, replaced by a buzzy, cerebral thwack. This is a certified stoney high, spacey, calmingly introspective, and mildly euphoric. It's heavy, but not totally debilitating, and I even feel an initial surge of energy after smoking. Novices beware, some serious tolerance is required to smoke Sugar Plum in any kind of quantity, just like we like it.
#Budfinder
•
•
•
•
#dcbud #dc420 #420 #dcweed #mdweed #stoner #marijuana #dccannabisculture #strainfinder #thc #dccannabis #dcdabbers #puffpuffpass #dopesmoke #dmv420 #topshelf #stoner #whiteashonly #cleanmeds #i71 #zabacannabis #zabagang #24kexotics #sugarplum
Advertisements