Strain Review: White Runtz by Lost Coast Exotics
New Review time! @lostcoastexotics #whiteruntz let's dooooo this! #yee
Brand: Lost Coast Exotics
Strain: White Runtz
Lineage/Genetics: Zkittlez x Gelato
Original Breeder: Runtz
Grower: Lost Coast Exotics
Lost Coast Exotics White Runtz Strain Review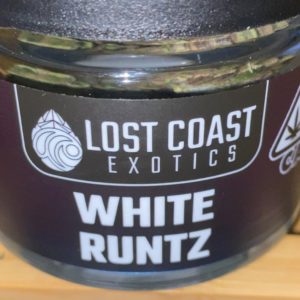 16.82 %THC
Comments: Holla! Haven't had the White Runtz in a while so I'll give this one a shot. Low THC don't bother me!
Review
1. Scent: Cool winter mint and pine trees. It slightly mouth watering once burped from the jar.
2. Appearance: Not the pretty nugs selection at all. They are looking like smalls but have a lot of trichomes and some hair, but not too fancy.
3. Nug Structure: Not bad C grade buds. Breakdown was kinda annoying due to the size so I used the grinder a lot.
4. Smoke: Really smooth off the bong. No issue with chest grab or cough. Solid thick smoke.
5. Taste: Little mint and maybe a subtle note of pepper corn. Not overwhelming at all but a slow heat sorta on the taste buds.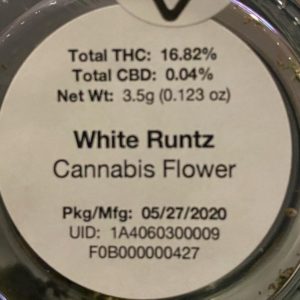 6. Reaction: It's a good Stone that's pretty evenly balanced. Doesn't last for longer than 30 mins tho which sucks. Repeatedly having to fill the bowl.
7. Conclusion: Jar went fast for sure. Ticket was on the "affordable" side of the spectrum so we made quick work of it. Their other strains are pretty good too given the price so I knew what to expect. Definitely need to get my hands on the true Runtz in current circulation but this worked just fine.
#cannabiscommunity #cannabis #cannabisreviews #trees #weed #weedreviews #pot #potreviews #thc #sacramento #916 #420 #yee #legal #strainreview #california #valley #thehighestcritic #westcoastsmokeshow #loud #Runtz #fruntz
Advertisements