Strain Review: Wonka Bars by Frosty Flowers
Monday Review is up! @_frostyflowers @brokeboyz_365 @terpensteinusa #wonkabars Brand: Broke Boyz/Frosty Flowers
Strain: Wonka Bars
25.49 %THC
Lineage/Genetics: GMO Cookies x Mint Chocolate Chip
Indica or Sativa: Sativa Dominant Hybrid
Original Breeder: Exotic Genetix
Grower: Frosty Flowers x Broke Boyz
Wonka Bars Strain Review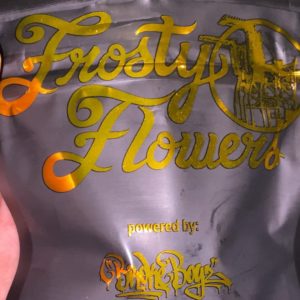 Comments: Yee! Stoked to see this local Town brand touch down out here. 7 grams for a legit ballin on a budget ticket. Worth it.
Review
1. Scent: Little pine little spice. Nothing shouts out at first. Deeper inhale some breaking down of the bud gives off more spice notes, like Ortega or Golddust from the 215 days.
2. Appearance: Smalls. Def experiences with budget tree has been "mixed" to say the least. However, I've gotten more bud than stem in this bag. Small hits of orange and trichomes, but not overly frosted. If you have a magnifying glass you def can find additional frosty nuggets.
3. Nug Structure: For the sizes, they really held together well in breakdown, handling, some leaf here and there but didn't bother me. Sharing size bag if you will.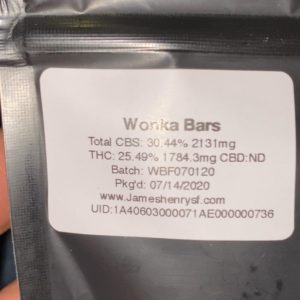 4. Smoke: Not too harsh for smalls. Didn't cough at all. More of those old school spice tones which make my nostrils tingle. Vets and rookies would appreciate it.
5. Taste: Slightly between a pepper pine. Kinda that standard kush line of taste. Not a whole lot else.
6. Reaction: Slight creeper high at about that 4-5 min mark. Which tbh messed me up cuz I was thinking "oh cheaper smalls must not hit" but I was pretty jacked on the first bowl. Lazy due to overload, but the next rounds were much more peaceful.
7. Conclusion: Functionality and affordability. You can get shit fine if you don't over smoke it tbh. The high is normal 45-hr but my first session earlier in the week was too much too fast with a double bowl. The price might fool you into thinking it's less superior weed. There in lies the joke. It's good weed that would sell for standard 8th price just smalls. Def add if you are a quantity type of smoker, cuz you will double up and be happy with the result. #fire
#cannabiscommunity #cannabis #cannabisreviews #trees #weed #weedreviews #pot #potreviews #thc #sacramento #916 #420 #yee #legal #strainreview #california #valley #thehighestcritic #brokeboyz #wonkabars #frostyflowers
@stickerfarmer @stickerfarmer_sacramento @stickerfarmermadeit