Vape Review: Pineapple Express Pax Era Pod by Riff
Riff pax era pod. Pineapple Express- Hybrid/Ind.
Lineage/Genetics: Trainwreck x Hawaiian
Original Breeder: G13 Labs
Grower: Liberty Health Sciences
Processor: Liberty Health Sciences (RIFF)
Dispensary: Liberty Health Sciences
Pineapple Express Pax Era Pod Review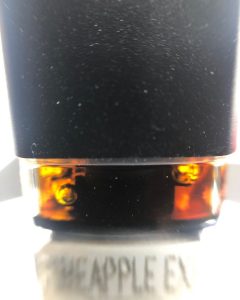 THC: 82.5% Cbd: 0.4%
Recommended time of use: If you are a regular user, I would say this pax strain is ideal for any type of day, but if you have a light tolerance to hybrids and having indica within your medicine, I would recommend this strain towards the late afternoon just in case it gets you way too sluggish and slow feeling.
Head: Because of the strain, this gave me a very happy uplifting feeling which made me go about my day without a single worry. Even if I encountered stressful situations, the way that this strain allowed me to go about said situations made me really like the so sought after "pineapple express"
Body: I did not feel it much on my body, as some slight discomforts were still present, yet tolerable. So I would not recommend this strain for someone who is trying to find the perfect body relaxer and sedative as this strain is just not indica enough to give you the desired sedative effects.
Creativity/talkative: This strain made me in particular very hyper, and I became a little annoying to the people I was with, but only because I just wouldn't stop talking, and I was talking very fast also. This strain made my thoughts and creative juices over flood my brain which I honestly very much enjoyed as I enjoy a good strain that gives me a nice heavy mind stimulation.
Hunger: This strain is more of a head high effect, so the bodily effects are not felt so strongly. Therefor, this strain will not give you the hunger that you may need to finish a whole plate of food, but it can give you the hunger to at least ingest a small snack, or appetizer to hold you off for an hour or two. I would not recommend this train for someone who is trying to put on weight as it will not give you the desired effect. .
.
.
.
.
Ignore hashtags 😅👎🏼
.
.
.
.
.
.
#sunshine #cannabis #cannabisphotography #cannabiseducation #cannabiscommunity #420daily #medicalmarijuana #greenmedicine #marijuana #mmj #cbd #thc #flower #instaweed #stayhigh #weedstagram #stoned #cannabisculture #cannabisreviews #weedreviews #stonersdaily #reviews #cannabisreviewer #hybridweed #cannabislove #flowerfriday #libertyhealthsciences
Advertisements