CBD Review: Sour Space Candy by Goat Ridge Hemp
Review of the @goatridgehemp Sour Space Candy Hemp Flower.
Lineage/Genetics: Sour Tsunami x Early Resin Berry
Original Breeder: Oregon CBD
Grower: Goat Ridge Hemp
Sour Space Candy CBD Strain Review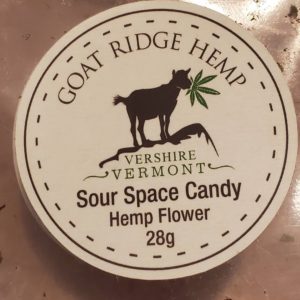 Come travel with us to the beautiful state of Vermont. Over on the ridge is a small family farm that has been making quite a bit of noise on Reddit's Hemp Flower Page. As the legend goes horses grazed this land and now the hemp grows as good as gold. After hearing of the amazing aroma and how this flower while hemp was better and more effective than the "real" flower in Florida's Medical Program I had to see for myself and the hype was real Gas ✔ Appearance ✔ Smell ✔.
Expect a heavy dense musk smell from these frosty, sticky myrcene filled nugs. In the ounce that I purchased there were five 3 gram chonker nugs. There is a slight sweetness from the terpinolene but it is dominated by the myrcene. Sweet and sour I like to call it, just expect a lot more sour than sweet. As far as effects go this hemp flower hit me harder than any CBD dominant flower ive had. When I tested it on the wifey her reply was wow thats really impactful to be CBD.
This one you will feel both mind and body. It puts me in a great state of mind, clear, balanced, and peaceful. It can be pretty relaxing as it sets in but I don't feel like it made me sleepy during the day. Great for inflammation and I think it be awesome to use before Yoga. This hemp is Master Grower level and it is definitely Strain Games approved. This SSC could be mistaken for an indica hybrid by some of you rookies, it hits hard and you do feel relaxed.
At the Strain Games Medal Ceremony Sour Space Candy took home the 🥇 Gold.
Cured well and packaged well as much as we tried we could not any negatives. What a stunning performance from the newcomer. @goatridgehemp thank you for opening my eyes to Hemp flower. I can feel the love and hard work you all put in. Keep up the outstanding work, much love from the Capital City of the great state of Florida. We will order again.
#goatridgehemp #straingames #vermontliving #floridaboys #hempreviews