Concentrate Review: Dutch Hawaiian Rosin by Blue River Terps
Blue River Rosin – Dutch Hawaiian- Sativa
Thca: 87.8% Thc: 2.7% Cbg: 2.8% total: 93.7%
Lineage/Genetics: Dutch Treat x Hawaiian Sativa
Original Breeder: Top Shelf Seeds
Grower: Truflower
Processor: Blue River Terps
Dispensary: Trulieve
Blue River's Dutch Hawaiian Rosin Review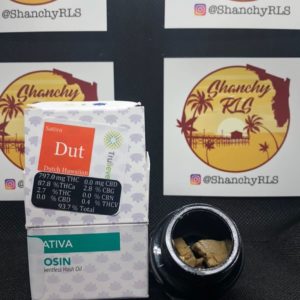 Condition/symptoms: stress, depression, nausea
Recommended time of use: any time is good except for night time when you want to get some rest. This strain is a Sativa which means it'll keep you up.
Head: Eventhough this strain is a Sativa, it doesn't get me anxious, but it does give me a very nice uplifting feeling a little unavoidable small smirk.
Body: my body doesn't feel relaxed, yet minor aches have become tolerable. I feel like I am at the right mental state and physical state to do anything today
Creativity/talkative: very talkative, and giggly, yet also very forgetful at the same time, but that was only when the effects were extremely noticable shortly after dabbing.
Hunger: I feel like being a wake and bake, my review on hunger about this strain won't really benefit, yet I do not feel any more hungry than I did before I took my first dab this morning. .
.
.
.
.
Ignore hashtags 😅👎🏼
.
.
.
.
.
.
#sunshine #cannabis #cannabiscommunity #sunshinestate #medicalmarijuana #marijuana #mmj #florida #miami #miamibeach #review #indica #sativa #hybrid #cbd #thc #flower #instaweed #medicalpatient #medicalmarijuanareviews #stoner #stonersdaily #staylifted #stayhigh #dabs #rosin #cannabisreviewer #shanchyrls
Advertisements