Concentrate Review: Tangie AF Live Rosin by Byrd Extracts Co.
Tangie AF live rosin
By @byrd_extracts_co
Grown and bred by @healingherbfarms
Lineage/Genetics: Tangie x Strawberry Fields
Original Breeder: Healing Herb Farms
Grower: Healing Herb Farms
Processor: Byrd Extracts Co.
What is Live Rosin?
Over here at Cannasaurus_Rex_Reviews, I have decided to step into the realm of concentrate reviews and we decided to start off with this fine specimen of live rosin, now what is live rosin you ask??? Live rosin is a solvent free concentrate, you take heat and pressure and use a dab press, you fill up mesh bags with your product wether be flower or bubble hash and smush them in the machine, when the pressure and heat combine it pulls all the the finest oils from the plant matter and the end result is a beautiful thick potent solventless concentrate that will buckle the knees of even the most vetted tokers and can come in many different consistencies, So lets get down to it!!!
Tangie AF Live Rosin Review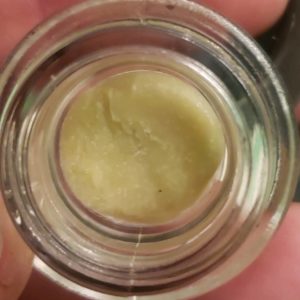 Appearance – When received from byrd, the color was more of a golden yellow as it sat in the jar for a week it turned to more of a off white with a tinge of gold like a butter creme, the consistency was fantastic smooth like butter and flaked off like a freshly cooked salmon. It was just stunning all the way around and I could not wait to drop a fat glob of this incredibly well made product, all the way down to the packaging of the red logoed box with raised lettering just popped and was just a very presentable proffesional package.
Smell – As soon as your nose hits the jar you're met with a smooth citrus burst that gently shifts lightly to a more tangarine rind scent but remains a strong pungent citrus that stings and sticks to your nostrils.
Taste – While you take your dab you can taste the citrus as soon as the smoke begins to fill your rig, just a explosion of freshly blended tangarines roll around your pallet,very smooth goin down and very smooth coming back up as you exhale your already salvating mouth will be greeted with that same smooth citrus but with a nice hash flavor on the back end,truly an absolutely enlightening smoke.
Effects – Immediately after your first hit as you exhale you will feel a enthralling rush of energy shoot straight to the front of your head, upon the second you could feel the stone work its way down to your shoulders some and was slightly relaxed, if you are prone to anxiety id say take it easy or find another strain deffinetly, the best way to describe it was like a triple espresso shot plus a swift kick in the ass, everytime it was smoked smoked it I was instantly awake, alert and focused and was a one man army when tackling all the christmas stuff that needed to get done. I myself would recommend this for mornings or mid day to afternoon as it was a good pick me up, you could smoke it in the evening if your not trying to sleep. For connoisseurs enjoy this blissful rush of energy filled with citrus terps for days!!!!
5 ++++++++++++ stars and I wasn't expecting anything less than 🔥 from the byrd man, to @healingherbfarms thank you for growing and breding such a rich trichome and terpene filled plant, and to the team over at @byrd_extracts_co you absolutley crushed it. Just perfectiin all the way through, exactly what any true cannasuer would want. Keep up the great work so if you get the chance grab yourself some byrd cause i will honestly say that Byrd is the wyrd!!!!!