Cultivar Review: Animal Mints by Seed and Strain
One company that has pretty much been solid since inception has been @seedandstrainco by @columbia__care so when my buddy pulled out some Animal Mints and told me how fire it was, I didn't doubt him for a second.
Lineage: Animal Cookies X Sin Mint Cookies
Bred by: Seed Junky Genetics
Grown by: Seed and Strain
Terpene Profile: Unknown
Dispensary: Enlightened Dispensary
Seed and Strain Animal Mints Cannabis Cultivar (Strain) Review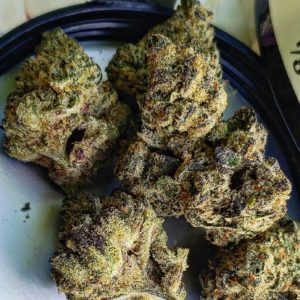 Although I must admit it was even better than I anticipated so I had to rush down to @enltnddispensary to scoop one up before they sold out of this possible strain of the year candidate. Animal Mints was originally bred by @seedjunky_jbeezy and is a cross of Thin Mints(Pheno of GSC), Animal Crackers(Fire OG*GSC), and Blue Power(Sour Dubble*Master Kush*The White*Blue Moonshine) that's been known to bring the bang to that classic Wedding Cake strain.
Five dense medium to large sticky arrowhead shaped nugs. They have deep forest greens and even the lightest touches of violet but for the most part is overshadowed by the thick sheet of harvest gold trichomes that bring on the shades of nicest Afghani. Very sticky cure that pulls apart nicely and despite the gummy density can still be broken up by hand. 23/25
The aroma out the jar has an effervescent sour gas peeping out after popping the lid. Once I break down the buds that fizzy pop is intensified to bright fresh minty GG4 skunk and just down right dirty rancid diesel. Just know that room is smelling like Pepe Le Pew for hours afterward. 24/25
That bright sour hits your lips with a smack and coats the mouth with loud rich smoke that has the skunk lingering long after exhale. Savory pine musk is found on a finish that keeps on giving. Dry pull on the joint of mint and skunk that burns down to clean white ash and light resin ring. 23/25
The beauty of this strain is one or two puffs and you can have a great high that covers the whole body with not too much couch lock to keep you motivated thru out the day. I will say that after the 3rd puff you better clear your day because this hits like a mack truck that by the end of a full joint it will lead to a lethargic high that last hours filled with giggles and munchies. 24/25
94 points
#weedadvocate #animalmints #seedandstraincannabisco