Cultivar Review: Grape Gas from Terpz n Hunnitz
Grape Gas (Grape Gasoline)- @terpz_hunnitz617
Nose: Sweet, berry, grapes, gassy, tart
Inhale: Citrus, diesel, berry, floral, eucalyptus, sweet
Exhale: Tart, cheesy, musty, grapes, sour, cakey
Genetics 🧬: Grape Pie x Jet Fuel Gelato
Bred by: Compound Genetics @compound_genetics (original breeder)
Cultivated by: Undisclosed
Terpene Profile: Unknown
Distributed by: Terpz n Hunnitz
Grape Gas Cannabis Cultivar (Strain) Review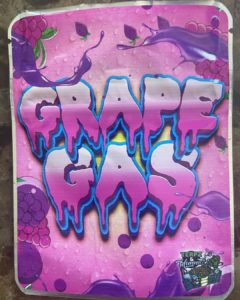 Hey what's up everyone? It is officially the second day of summer and, although I wish it was a little bit warmer out I figured I keep the heat coming with another review. Terpz n Hunnitz, native to greater Boston area, has shown an tremendous amount of interest on getting some reviews up on the page. I did review a sample of his Grape Mintz last fall so, needless to say, these upcoming ones have been slightly overdue. When I finally got a chance to meet the man himself, he gave me a variety of five different flavors to try (3-4 of which will be reviewed over the next couple weeks). I will be kicking it off with the Grape Gas (or formally known as Grape Gasoline which features a cross between Grape Pie and Jet Fuel Gelato. This is not to be confused with the original Grape Gas (Purple Halitosis #4 x The Truth). Originally bred by Compound Genetics, I have never had the chance to try this before, however, some friends have told me that this cultivar typically has an even mixture of berries and gas. Let's waste no more time and get into the facts!
I received the Grape Gas in a standard, square Mylar bag. Nothing about the presentation stood out to me except the fact that purple coloring aligned well with the particular cultivar being offered within. The image of grapes and slime-like lettering made up the remainder although none of which capturing my immediate attention. This also included the trademark Terpz n Hunnitz logo on the bottom right corner when facing.
While I still remained aware of my surroundings, I began to sense of fogginess clouding my head. The head rush endured earlier dissipated as I felt a lot more relaxed at this point. The medicinal effects were potent concerning this cultivar lasting somewhere in between an hour and half to two hours total. The remaining 30 minutes of the high was very enjoyable as I felt almost if I was floating on air with the eurphoria picked up later. I didn't find much to complain about with the medicinal effects the Grape Gas put out, particularly due to the shift in effects throughout the course of the high as well as the total duration.
After having a chance to try the Grape Gas offered by Terpz n Hunnitz, I will say that this exceeded expectations. When I first looked at the appearance of the bud I wasn't sure what the end result would be; however, in hindsight, this fits the criteria of "you can't always judge a book by its cover." It goes without saying that if you are a fan of tangy mix of fruity terps, or gas, you will be in luck with this one. Additionally, if you have a tendency to submerse yourself with various grape cultivars (such as Grape Pie) you will, without a doubt, want to give this a shot. Needless to say, if you prefer flavor over looks this will have you covered. The medicinal effects undeniably were the main course, in my opinion. The constant shift in effects (from head rush to full body melt) will satisfy smokers who are looking to get a "total package" high. For patients, this will particularly work well with those suffering from any body aches or soreness as well as depressive symptoms. Once again, this one definitely took me by surprised and is the first of a string of reviews I'll have up for Terpz n Hunnitz.
When I sparked the Grape Gas in an Organic RAW, the initial inhales fed off a sharp citrus edge going hand-in-hand with a slew of diesel berries and grapes. To be quite honest, this taste was very similar to the permanent marker like taste I pulled in with the Blueberry Waffles last review although, this time, with grapes. On the way out, I honed on a musty, tart, and cheesy concoction which threw me through a loop considering what the flavor pulled on the way in. The terp profile on this started off strong aligning well with its name. A little way into the sesh is when I noticed a slight taste of Z gently cover the roof of my mouth. At this point, I found that this carried an aftertaste of carbonated grapes which lingered for a little about halfway through. The pulls started off smooth but the gas flavor picked up as the sesh moved along. The burn on the joint was smooth, moderately fast-paced and became heavier the more time went on. The ash that resulted was salt and pepper in complexion, including tiny oil bubbles forming towards the top of the joint. Turning towards the tail end of the sesh, some of the pulls become increasingly harsh due to the bitter grape and diesel flavors being throw off, creating a bit of coughing. I think all in all this had a smooth flavor til about a 1/4 left but left me with gas and fruit soaking my taste buds even after the sesh concluded.
The onset of medicinal effects didn't waste any time diving into play. Towards the sesh, my brain resembled scrambled eggs once a steady head rush began to develop. Additionally, my heart race increased which included a slight sensation of paranoia. About 15-20 minutes later, my awareness to small things seemed exceptional, especially towards loud noises. As I sat on my couch one night while experiencing the effects of the Grape Gasoline, I noticed could almost hear every finite detail going on outside my window.
Upon opening up the bag containing the Grape Gas, I was hit with a fresh odor of sweet and sour berries. There was also a noticeable smell of sweet, tangy grapes that immediately blended in to the scent previously mentioned. Additionally, I closed in on a overpowering, gassy layer which loomed over the mouth-watering sweet & sour berries. Three decent-sized nugs made up the eighth received on the free sample, consisting of a balance between a fluffy, but shaggy, and dense appeal on the structure. When it came to the aesthetics I wouldn't say that there was much to write home about. Each nug possessed a lanky cola showing off a mixture of lighter green to gold hues. It wasn't difficult to notice the dark violet leaves interviewed with the remaining structure which were all under amber-colored trichromes. They serious look like they were beer-battered before sprinkled on. As favorable as the nose was on this cultivar the appearance simply looked messy. When breaking into the bud, I gained access to a soft and kiefy interior which displaced a good amount of them when taking out of the bag. I did prefer to using a grinder when breaking up the Grape Gas as I felt this gave me my most maximum chance for yield with this cultivar. Upon doing so, I discovered that the nose went through not one change. Still consisting of a sweet, tangy grape nose I personally can say the scent on the Grape Gas put out was easy to fall in love with. Proceeding to take a dry pull from the joint, I let in heap of grape fuel consisting of the same sweet & sour berries prevalent when taking the nugs out of the bag.
Advertisements