Cultivar Review: Pink Boost Goddess by Emerald Spirit Botanicals
I first met Joseph from Emerald Spirit Botanicals at the Mendocino Craft Farmers' Auction. Caught up with him again at Hall of Flowers and today, I have the honor of publishing some thoughts about their multi award winning flower which has been selected season after season for THCV: Pink Boost Goddess.
I also got an infused pre-roll version of the Pink Boost Goddess from their partners at Chemistry on the clear other end of the venue, so readers can think of this as a two parter.
Lineage/Genetics: Boost x Black Garlic x Unknown Goddess
Original Breeder/Grower: Emerald Spirit Botanicals
Terpene Profile: Myrcene Dominant (Myrcene, Ocimene, Terpinolene)
Website: emeraldspiritbotanicals.com
Pink Boost Goddess Cannabis Cultivar (Strain) Review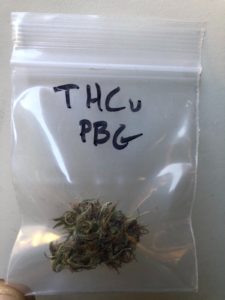 Such a beautiful, well trimmed and cured nug. Airy and Hairy but solid where it counts.
Pink boost goddess starts off like…in your face lemongrass with a light smell something underneath. If you have ever smelled a lemongrass heavy prahok ktiss (a Cambodian dish with lemongrass, pork, and monkfish), they have the funky yet fresh similarities. The cleaner is like pinesol without too much pine and a whole lot of sol (the sun!)
Speaking of which, Emerald Spirit Botanicals is Sun+Earth certified.
Later, a little minty and bright evergreen flare at the end. There's an electrified flower in there attracting bizzy bees. Borderline fizzy. Chemy.
The smoke is light and the flavor is very floral and herbaceous like floating and tasting the electrified clouds on the way up with no fear of electrocution. I didn't feel an inkling to cough at all while smoking though I'm not sure it would have ruined the ride up. The flavour chasers would like a word.
The high hits early and is noticeable while smoking but for anyone who hasn't enjoyed THCV before, it could be subtle. My heart rate isn't beating faster or anything but I feel as if it is easier to open my eyes or any movement. A lightness and readiness to act or move. Yet at the same time, my body also feels as if I am in stasis. Using no energy unless I want to. With no desire to eat because like I said… I'm in stasis…
Stasis meaning equilibrium, not inactivity. Focus is so "there" that it's but an afterthought. Think a no jitters addy but without the God complex and a hell of a lot better tasting.
I will be honest, the psychoactive portion of the high did not last as long as your average rapper weed. Please noone strike me down for heresy but If I was trying to have a physically knocked out but mentally productive day, I'd consider using PBG in a mix to enhance other cultivars.
Honestly, I'm also really interested in trying to test – even if just for anecdata – the fishing sensory enhancing capabilities of THCV high cultivars such as Pink Boost Goddess.
Pink Boost Goddess flower: Like a pinkish red bullquet
It's one of the most unique cultivars I had the honor of smoking this year. Rightfully so, Pink Boost Goddess is starting to become available in more places in the state of California and if it's not yet available at your local dispensary or delivery service. Bother them until they stock it.
They're on Nabis so it shouldn't be hard!
Founder of The Highest Critic
Unpaid /r/trees mod
Certified Ganjier
Kine bud enthusiast
Advertisements