Dab Review: Ice Cream Cake Bubble Hash by Byrd Extracts Co.
Ice Cream Cake Full Spectrum Bubble Hash(45u-159u)
Washed by @byrd_extracts_co
Cultivated by @healingherbfarms
Lineage/Genetics: Gelato 33 x Wedding Cake
Original Breeder: Seed Junky Genetics
Grower: Healing Herb Farms
Processor: Byrd Extracts Co.
Ice Cream Cake Bubble Hash Review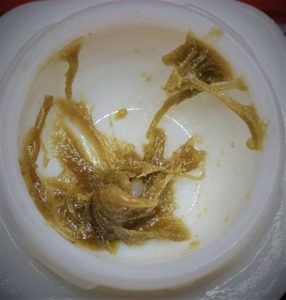 Man am I excited for this one, with Byrd being my first ever hash rosin review I only saw it fitting my first bubble review be of his as well however I lucked out with this rare gem.
This has had a hell of a cure on it, washed in 2019 and pressed to make the award winning hash rosin that took home first in the personal use solventless at the @theemeraldcup I just dug into it yesterday , and it has been sealed in a freezer from the time of dry until I recieved it. So over a year cure and it's still as fresh as ever.
What is full spectrum bubble hash you ask?? Well dried flower or fresh frozen flower can be used and placed in a bubble machine or hand stirred with a paddle inside a brute trash can and work bag, the flower is placed inside your washing vessle of choice, ice and water are added to the equation along
with agitation and the trichome heads are than gently seperated from the material in a beautiful work of art.
After the heads settle in the brute or machine the water and thrichs are than put through seive bags of various micron sizes and collected to be dried in a freeze dryer or air dryed, when talking about full spec most of the time as it is represented here are the yield from the 45u-159u bags that being your full spectrum, anything above that or below that is considered food grade and would make great edibles or other cannabis products.
The name bubble hash comes from how the material bubbles up when heat is put to it as well as the bubbles that form when it is washed.
Appearance-I let the hash grease down at room temp for 12 hours to get it all melted together, the tones had a nice brown color to the material, when under light it gave off more of a golen graham brown tone, once played around with I was left with a golden greasy hash that made me stare in awe at the live hash porn my eyes were seeing, just a positively beautiful product.
Smell- as soon as the jar was cracked open, a sweet powerful gas was just wafting through the air along with that nice slightly nutty rich hashish flavor filling my nose on the back end.
Taste-Mmmm smooth, creamy sweetness a very well rounded flavor with that very distinct nutty organic hash taste finishing it off beautifully, as the hit bubbled and melted away a smooth rich and very whole bodied experience awaited me on the exhale and was extremly clean, it had a very similar flavor as the inhale with a flavorful gas on the back, just a true cannasuer toke.
Effects- Instantly after my first hit I could feel the buzz begin atop my head rippling like an echo in the valley slowly wrapping around beggining on the journey to the rest of my body, as I begin thinking of how cool it would be to shrink into submarine that could see what my body goes through as the hash kicks in like the magic school bus episode when they explore the human body, I load up another greasy ball and enjoy every second my lungs are filling with this amazing treat, after the second pull I feel myself just fade to a mellow state yet clear and alert , I would be completly content with this buzz anytime of the day, now once you go past three packs of the bubble the stone hits on heavy and I feel my eyelids just barely open just loving life and feeling amazing everywhere, I feel as if im that hash bubbling and melting away into my bowl just filled with peace and tranquility, a potent hash that will just make you all around happy and relax but if overdone may cause you to pass out and can be overwhelming to newcomers so tread lightly if your not used to concentrates or are new to cannabis.
It all starts with the grower, and healing herb crushed it, the flavor is phenominal and the quality is through the roof, the hash simmered with beautiful melty bubbles and had terps for days. To byrd it was even better than I expected it to be, it fully surpassed my expectations keep doing what you do brotha! Super 🔥!!! Many thanks for what you do!🦖
#byrdextracts #bubblehash #hash #fullspectrum #cannabisculture #cannabisreviews #420reviews #weedporn #hashporn #solventless