Strain Reiew: Alien OG by The Cali Connection
ALIEN OG 💚(HYBRID)
Lineage/Genetics: Tahoe OG x Alien Kush
Original Breeder: The Cali Connection
Alien OG Strain Review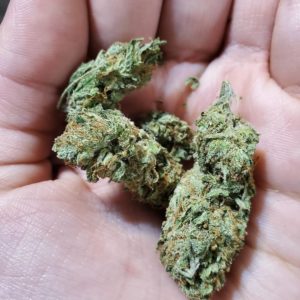 THC: 18-19%
non-pungent smell, very frosty looking.
An intense smooth feeling down your throat from the bong.
Doesnt smell SUPER INTENSE but it's good a soft soothing smell to it
I feel it is more sativa dominant.
Yet relaxing like an indica but not tiring.
My body feels light.
My mind chill and clear.
Mira said this strain gave her intense giggles, I dont feel that kind of effect but I think if I were to smoke it in a blunt it might give me the giggles.
Another said that it made her hella horny, I assume that the light air bubbly feeling I felt would turn to intense horniness is I was smoking with a lover.
Gave me a good mood.
Great combination with morning coffee before taking on PR's traffic.
.
.
.
#weedblog #weedlife #weedporn #weedgirls #weedgirls #weed #marijuana #cannabispr #cannabiscommunity #cannabis #cannabisculture #smoking #weedblogger #smokeweedeverday #iloveweed #mj #420 #420blog
#smokingfetish #stoners #stonergirl #weedreview #weedculture #weedenthusiast #weedlover #cannabislover #cannabis #hybrid #indica
Advertisements