Strain Review: Cackleberry by Greenpoint Seeds
CACKLEBERRY💛
Sativa dominant 60-40
Lineage/Genetics: Cherry Diesel x Stardawg
Original Breeder: Greenpoint Seeds
Cackleberry Strain Review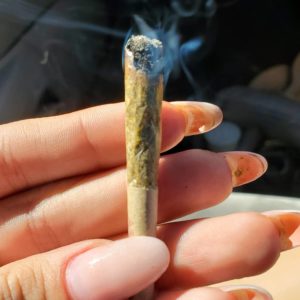 Joint.
Cotton mouth pal de intenso
It's a soothing Mellow high. No te pone lento ni bruto pero un chin happy
El cuerpo se siente medio pesado, laid back. Making this road trip drive super mellow
At first I felt an intense sativa kick but quickly that mellow Indica-ness kicked in and I relaxed.
⚠️Los que tienen intense anxiety proceed con slight caution: Sugiero que usen este strain cuando van hacer algo not just chill there.
En el dispensario la chamaca me dijo que era el mas sativoso de los hybrids y pues yo estaba basilando y afuego pero se puso chill la cosa ( I've been mentally sensitive lately, I'm having a really hard time lately) since I wasnt doing something o algo me vino a la mente y casi me me da un lil anxiety attack pq mi mente y pensamientos acceleraron.
Like smoke it pero no se queden in your own thoughts pq pues .
.
.
.
#weedblog #weedlife #weedporn #weedgirls #weedgirls #weed #marijuana #cannabispr #cannabiscommunity #cannabis #cannabisculture #smoking #weedblogger #smokeweedeverday #iloveweed #mj #420 #420blog
#smokingfetish #stoners #stonergirl #weedreview #weedculture #weedenthusiast #weedlover #cannabislover #cannabis #hybrid #indica
Advertisements