Strain Review: Blue Sherbet by Dank Dabs
Blue Sherbet – @dankdabs1
Nose: Ginger bread cookie (sweet), earthy citrus, tangy.
Inhale: Musty, earthy, citrus, sweet and diesel.
Exhale: Tart, gassy, sour
Genetics 🧬: Blue Cookies x Sunset Sherbet
Bred by: Kush Forest @kush.forest
Grown by: Dank Dabs
Terpene Profile: Unknown
Blue Sherbet Strain Review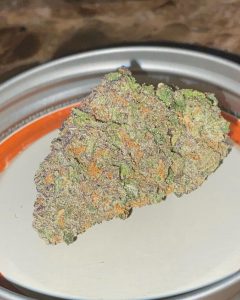 What's up everyone? I hope everyone is having a great start to the week, it is Tueaday, and I have another review for you. Today, we have a special debut from the Dank garden. Dank was nice enough to bless me with some some other local offerings in the past we've had on the page and I've even had the pleasure of chopping it up a bit with him. This one was a little more special given that it was out of his own garden. I was blessed with two offerings by him: Blue Sherbert and Runtz. This was the first time I have had the opportunity to try flower from the Dank tribe and I was super excited. I could tell this Blue Sherbet was going to have that cookie appeal with the fruitiness to follow. Let's waste no more time and get into the facts.
I'm one that respects good packaging but it doesn't make or break my decision to obtain in the long run. However, you have to love a glass jar that fits around a seven which is exactly what this was. I thought the labeling was pretty cool and nothing too over the top. I can't lie, however, the blue raspberry on the front was creative and I've always admired the design of the actual Dank Dabs logo too. No childproof cap for this one as it easily came off but still managed to keep the shelf life of the bud fresh.
When I twisted off the lid, I was amazed by the distinct gingerbread cookie smell that this Blue Sherbet had. I've had Blue Sherb before that was more on the fruity side nose-wise, however, I did enjoy this scent as it was fairly strong. Dense, hollow and moderately sticky these miniature boulder-sized buds almost fought their way out of the jar. You could tell by the way the nutrient-laden nugs looked that there was a good chance this would smoke clean. Off first impression, I really thought this bud leaned towards its Blue Cookies parent. The buds were an noticeably green and purple with some shades of blue and orange with a ton of pistils. When the buds were broken down they exhibited more of a fruity, tart-like smell. At this point you could really taste the citrus and terpy notes exhibited throughout most Sherbet strains you will find out there. The yield on the break up was very considerable and the stickiness to it filled the joint quite well I might add. I was excited to see what the Blue Sherb would smoke like.
When I lit this up in an organic RAW, there was an initial taste of heavy must and earth. This was followed by a bit of fruity berry and some tartness on the inhale. On the way out those tart terps were retained and the finish was sour and gassy for the most part. At certain points during the sesh those tart and sour notes were reminiscent of tart blue berries and blackberries. The pulls were a mix of smooth and a little more gassy which led to an ultimately clean smoke. The Blue Sherbet resulted in a fairly light gray to white ash and had a very consistent burn from start to finish. The taste turned from an earthy to more sour sweet the longer the joint burned on. The flavor changed more than a few times and was definitely the highlight of the smoke. It lost a little taste towards the end but overall the Blue sherb was a fine smoke.
This led to a balance and soothing high. While I was moderately relaxed this did seem provide an extra spark after smoking. I have found myself smoking this before working out and running. The terpy boost was an added bonus and the power within some of the hits didn't seem to wear me down as much as I anticipated. I noticed I got that distinct tingly feeling inside my stomach and nice extra boost of self-confidence when smoking this. Not to be gross but made me want to poop a little actually LOL. The high last a good hour but I did find myself looking for more after the smoke. I'm not sure if this was contributed to the taste of it being so on point or the high wearing off quicker than expected. Although the high from the Blue Sherbet was super cozy I didn't think it was anything that would blow your toupee off.
Overall, I thought the Blue Sherbet that Dank Dabs harvested could be enjoyed by all levels of smokers. I truly believe that more intermediate smokers will get that extra kick from the high whereas higher level smokers are most likely going to lean towards the taste profile as the highlight which would be my best guess. I also feel like this could be used for a variety of patients from those who suffer from depression or any common to more severe mood swings. As I mentioned, the soothing effect mixed with an energetic buzz fit the script for the high which, in my opinion, makes this strain marketable to a variety of different smokers. This was a very solid debut from one of many features we will have from the Dank garden in the future.
Advertisements