Strain Review: Cereal Milk by Limited Trees Genetics
Cereal Milk 🥣🥛Review
Lineage/Genetics: Strawberry Lemonade ❎ Thicc Mint Cookies *Phenotype 15
Original Breeder: Limited Tree Genetics
Grower: Cannabiotix
Dispensary: Urbn Leaf
Limited Tree Genetics Cereal Milk Strain Review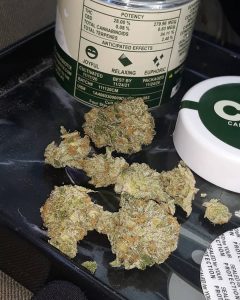 Exclusive In-House Genetic (70/30)Indica Dominant Hybrid
.
28% THC
34.11 Total Cannabinoids
.08% CBD
2.4% Total Terpenes
.
@cannabiotix @ul_feelgoodfam @urbnleaf_jsph @limitedtreesgenetics @limitedtreesgenetics03
.
🥣Trichome crystals cake onto big, chunky,fiery orange and hairy, light green and olive nugs. Super sticky to the touch, a grinder may not even help much 😂
.
🥛Amazing clean, creamy, sugary, berry/fruity aroma and flavor with a slight touch of herbal mint reminiscent of cereal left over from a bowl of your favorite fruity brand.
.
🔥Even better than the flowers look, aroma and flavor are its effects. A really balanced hybrid that caters to whatever the individual needs, like drinking cereal milk you might wanna savor every last bit before realizing you can just pour another bowl. Next thing you know your high af vibing with a full stomach .. (*wait, i can't remember if were talking about weed or food anymore. 😂)
.
🍇Generally you will feel a nice calm and focused sensation be the center of your high quickly inducing euphoric mood enhancement that radiates a happy and solar energy. At this point youll probably notice a creative and ambitous energy thatll cause you to become very socialble. But maybe youve had a long busy day this strain will also help with fatigue, stress and depression , appetite regulation and pain. Just before bed, you can expect a cloud of relaxtion and bliss fill your mind and body as even chronic pains seem to quickly melt away
.
🤙🏿I picked this up at the new dispensary @ul_feelgoodfam in san jose, they recently opened up in replace of The Guild. The new design is classy and cool and the best part is that they kept the budtenders so the relationship with the community should be fine. They still have tones of deals and special days available to help save money and their website and ordering system is manageable (has alot of potential to be better).It wouldve been nice to see a Black/POC owned dispensary in San Jose but i am hopeful for the future.
Advertisements