Strain Review: Cherry Lime Haze by Leiffa Medical
Cherry Lime Haze
By @leiffamedical
Gifted by @son_of_washington
Lineage/Genetics: Cherry Bomb x Haze x Thai (probably)
Original Breeder: Unknown
Grower: Leiffa Medical
Cherry Lime Haze Strain Review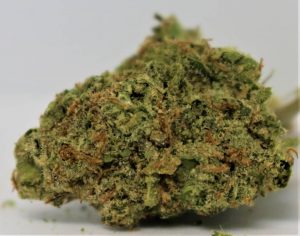 Appearance – I reached into the bag and pulled out the fattest nug, what I pulled out was a lime green toned dense and nicely structured bud,there was a nice coating of trichs throughout the flower and had spuratic patches of orange hairs, as I cracked the cannabis open it was a little on the over dryed side but not terribly you could see the trich layers stretch to the center of the plant and could not wait to light it up.
Smell – As soon as I opened the bag I was hit with a mellow burst of fruity cherry and a slightly tart lime, that scent quickly shifted as you sniffed deeper into the bag to a skunky cheesy funky musk that finished of with notes of a subtle sweetness.
Taste – On the inhale my mouth met with a fruity sweetness and finished off nicley with a smooth earthy goodness. My exhale provided similar flavors but had a hint of that cheesy skunk that lingered for a while after the exhale and left me eagerly anticipating the next hit.
Effects – The total thc was somewhere right around 20% on this cut and leans to the sativa side of the spectrum, if I had to guess I'd say rougly 80/20. The buzz began with a mellow head stone after one hit and had a nice warming body buzz beginning to creep as I blew out my second bubbler rip. It was a nice combo of sativa and indica as I could go either way with getting things done or just having a relaxing day with the kids and the wife.
4.5 stars on this cut here as we deducted some points for the crispyness of the herb, the flavor was absolutely a great mix of sweet and tart with that earthy skunky finish, this plant had nice structure, packed a hell of a punch of terps and effects.
I would recommend this strain pretty much any time of the day for fellow cannasuers you will enjoy the mix of body and a mellow sativa head buzz and absolutelylove the flavor she offers, and a morning to mid day or after work toke for a new comer as I believe this strain will provide you with a nice jolt of energy that is not so powerful that it will put your anxiety on overdrive.
Great job to the team @leiffamedical
And a big thanks to @son_of_washington for holding it down on this killer exclusive drop.
#initiative71 #i71 #cannasuer #cannasaurusrex #cannabisreviews #exoticstrains #dccannabiscommunity #420reviews #weedreviews #cannabiscommunity #dcweedevents #massachusettscannabis #massachusettscannabiscommunity #worcestercannabis #cannasuer #coloradocannabis #coloradocannabiscommunity
Advertisements