Strain Review: Cookie Dawg by Pintail Gardens
Cookie Dawg from @pintail_gardens is one that's been on my radar for years. It's a staple of their garden, and an old favorite of mine for night time use. Pintail is a farm that I don't see getting a lot of hype, but one that consistently produces some seriously hype worthy flower.
Lineage/Genetics: GSC x Chemdawg
Original Breeder: Big Head Seeds
Grower: Pintail Gardens
Dispensary: Oregrown
Cookie Dawg Strain Review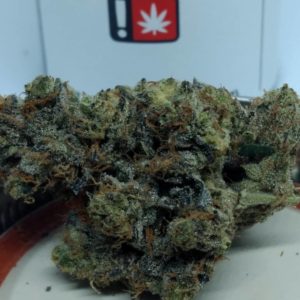 I used to not even really pay much attention to the smell that kicks off this flower, but it's one of the most unique profiles I've had in a while. In order for this to sound positive, I'm gonna have to sell you on "Tire store terps" not being an insult. In Oregon, Portland in particular, there's a phenomenon at our tire stores. Amongst the countless tires and overwhelming smell of rubber, there's always a popcorn popper. I don't know if that's something that happens elsewhere, but to me it's not a tire store without buttered popcorn. That's what comes through with this cross of Stardawg and Forum Cookies. Rubber and buttered popcorn. That's pure nostalgia to me.
The high on this, like many strains from Pintail, is not one to trifle with. It hits hard with a stoney euphoria that eases into a pleasant sedation over time. Expect munchies, and pay a little extra attention if falling asleep would be inopportune. Like I said, this is one of my favorite night time smokes.
At this point, I don't think it would be unreasonable to call Cookie Dawg a Portland dispensary classic. It's not one that goes back decades, but if you've smoked your share of legal weed in Portland, you've had this stuff recommended by budtenders you trust more than once. The farm knocks it out of the park regularly. They focus on small batches and sustainability, so the quality stays high. They do a long cure, which has led to this stuff being one of the more shelf stable strains in my medicine cabinet despite being in an oversized @oregrownindustries dram. You can find this both there and @thc.pdx. Look out for their OG18 as well. It's another favorite of mine and one that I turn to when I'm in the mood for a classic OG experience. I smoke a lot of sweet, fruity shit, so tire stores and OG stank are an appreciated change every once in a while.
#thehighestcritic #strainreview #strainreviews #weedreviews #420review #portlandcannabis #OMMP #portlandweedreviews #MMJ #oregoncannabiscommunity #portlandcannabiscommunity #oregonweedreviews #Medicate #oregoncannabis #PNWStoners #PDXcannabiscommunity #pdxcannabis #pdxstoners #cannabiscommunity #cannabisreviews