Strain Review: Flatbrainer by High Noon Cultivation
This is Flatbrainer from @high_noon_cult. I was gonna try to be more creative with that opening, but this has been a variable enough smoke that I don't think it's super necessary.
Lineage/Genetics: GMO x Nom Nom
Original Breeder: Scapegoat Genetics
Grower: High Noon Cultivation
Dispensary: Tetra Cannabis
Flatbrainer Strain Review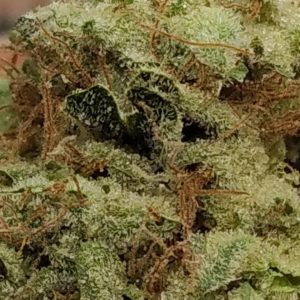 The terps on this are interesting. It's like a combination of all the popular OGs. It's got some kinda menthol and gas notes that remind me of Venom OG, some woody, zesty lemon notes that I find in your run of the mill OG Kush, even a little bit of the musty, earthy notes you get from Kosher Kush. There's almost some GMO funk in there, too. Really complex terpene profile that keeps expanding as you keep searching.
The high was really variable to me. It's definitely a night time smoke in my book, but not always great for sleep. Some times it's fantastic and puts me right out. Other times I get a big burst of creative thought and need to do something other than sleep. I definitely recommend it, but also suggest you enter with the right expectations.
Overall, this is a decent offering from one of my favorite farms. It's not their best, to be frank, but I'm super glad to see them putting out some new genetics. Their usual lineup is nothing but fire, and Flatbrainer will be a great addition. I don't review them very often any more because I feel I've done it all to death. I'll probably revisit them eventually, but right now I think I'm gonna wait until that new batch of Irish Cream comes out from them.
If you're looking for High Noon products, they're at a number of shops around town. This came from my good friends at @tetra.pdx, but you can also find them at @oregrownindustries, @jayne_pdx, and @electriclettuce_, amongst others. They're a go-to recommendation for anyone that hasn't had the pleasure of trying their stuff yet.
#thehighestcritic #strainreview #strainreviews #weedreviews #420review #portlandcannabis #OMMP #portlandweedreviews #MMJ #oregoncannabiscommunity #portlandcannabiscommunity #oregonweedreviews #Medicate #oregoncannabis #PNWStoners #PDXcannabiscommunity #pdxcannabis #pdxstoners #cannabiscommunity #cannabisreviews
Advertisements